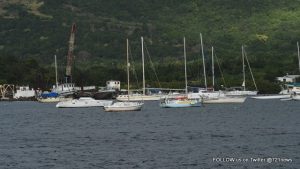 MARIGOT, Saint Martin — 721 newsroom obtained information that on Tuesday Jan 5th, around midday a lifeless body was found in the Simpsonbay lagoon.
We asked Capt. Maigan of the Gendarmerie, and he confirmed to us that the Gendarmerie were called on January 5th for a dead man on a boat in Simpson Bay.
The investigation revealed that the man died from natural causes.
His Identity could not be revealed as yet,  The Capt confirmed no signs of foul play
Source: 721 news A lifeless body was found on a boat in Simpsonbay lagoon (French Side)