~ The boat left from Curacao bound for Puerto Rico. ~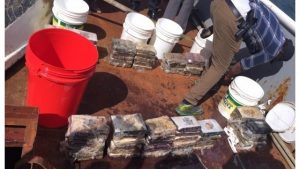 Samaná, Dominican Republic — The National Drug Control Directorate (DNCD) reported that in the last hours 79 packages of cocaine or heroin presumably on a vessel flying the flag of Sint Maarten was seized, and arrested  its seven crew members, which  all are  of Dominican nationality including  the ship's captain.
The DNCD said that the seizure was a combined operation conducted with the Dominican Navy (ARD) and the Dominican Republic Air Force (FARD) under the legal coordination of the Public Ministry.
He said that the DNCD intelligence ran information that the ship, named "The Black Bull", sailed to Puerto Rico with an undisclosed amount of narcotics.
During this investigation members of the agency with a team of Dominican Navy and one Air Force intercepted the boat offshore and towed it to the port Arroyo Barril, Samaná.
After arriving at the port, the authorities proceeded to search the boat thoroughly, detecting 79 packages of a white powder hidden in six plastic trays inside the fuel tank. The boat left from Curacao bound for Puerto Rico.
To seize the contraband, the DNCD had the support of 103 of the Navy Coast Guard and Super Tucano aircraft whose mission was surveillance from the air of the boat. In the operation they also used canine units and part of the elite unit of the DNCD, who detected the hidden drugs in the fuel tanks of the vessel.
The DNCD intensified the investigation, in order to establish the origin and final destination of the consignment of drugs been carried on the vessel.
Source: 721 news A vessel flying the flag of Sint Maarten was seized in Dom. Rep., seven men arrested and 79 package of cocaine or heroin found