ANGUILLA / SINT MAARTEN — Law Enforcement Officers from Anguilla and St. Maarten on Thursday 10th December, 2015 met in Anguilla at Police Headquarters to hold bilateral talks on security and intelligence for both islands.
The meeting hosted by the Royal Anguilla Police Force and chaired by Acting Deputy Commissioner of Police Elliott Forbes was attended by Police, Customs and Immigration Officers.
Attending the meeting from Anguilla were Chief Immigration Officer, Ms. Laureen Bryan and Comptroller of Customs, Mr. Travis Carter and other members of staff of both agencies as well A/Sgt. Charles Richards from the Marine Department.  The St. Maarten representative included Mr. A. J Doran, Head of Customs and Mr. Cederik A Werleman, Head Support Station St Maarten, Dutch Caribbean Coast Guard and other members of staff.
The talks which focused on issues and challenges facing each agency revealed that drug trafficking, firearm trafficking and firearm related incidents as well as illegal immigration affected all the parties concerned in some way or another, some greater than others.
"We all recognized that greater attention needs to be placed on our borders by improving control on both sides as well as collaborating with each other," said Acting Deputy Commissioner of Police Mr. Forbes. "We must work closer together developing better working relations in an effort to combatting the illegal activities that affects us all."
It is anticipated that there will be quarterly meetings organized in the near future between the islands with the inclusion of the French as well.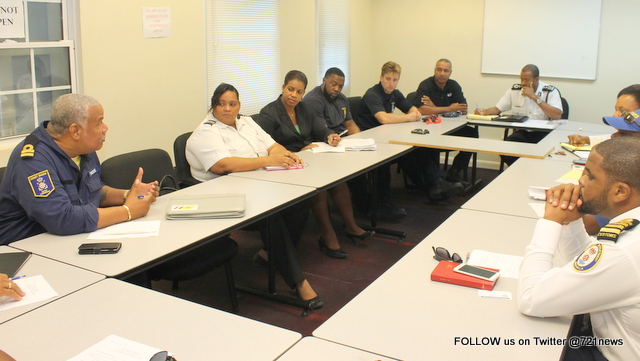 Source: 721 news Anguilla and St. Maarten Law Enforcement holds bilateral talks