By Today Newspaper
GREAT BAY, Sint Maarten – Alexander Rajendreh Dwarkasing appealed his sentence for causing a traffic accident on Bishop Hill Road that cost 46-year old David Charles his life, but he chose not to appear in court for the appeal hearing yesterday. The summons to appear in court had been served too late – on December 4 – and the defendant did not waive the term. The case now moves to March 31 of next year.
Dwarkasing drove on Saturday February 28, at 6.55 a.m. at high speed over the Bishop Hill Road. He had not slept since he got up the previous day at 7 a.m. In the evening, he went first to Simpson Bay where he drank an unspecified number of beers. Then he went to the Casa Blanca brothel in Dawn Beach where he arrived at 1.25 a.m. and left at 5.48 a.m. At Casa Blanca he drank, according to his own statements "beer and cognac."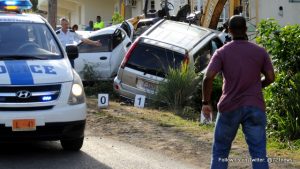 In a slight bend in the road, Dwarkasing lost control of his car and he slammed into the victim who had just left him home to put the garbage out. David Charles suffered horrible injuries and died on the spot. The investigation showed that Dwarkasing's blood-alcohol level was 0.0233 percent. In other words, he was not only dead tired but he was also blind drunk.
The court in /first Instance sentenced Dwarkasing in June to 18 months of imprisonment. Of the sentence, 9 months are suspended; the court imposed 3 years of probation and revoked Dwarkasing's driver's license for a period of 3 years.
Source: 721 news Appeal Bishop Hill Road fatal accident postponed