Sint Maarten / St Kitts — 721news has contacted the Assistant Commissioner of The Royal St. Christopher and Nevis Police Force, with responsibility for Crime Ian Queeley to confirm to us if any official arrest warrant  was issued for Ronald Robinson the suspect in the arm robbery of SOL Gas Station in Cole Bay. Queely told 721news reporter that NO arrest warrant is out for Ronald Robinson of Craddock Road, Nevis.
Contrary to reports that were circulating yesterday (Dec 4th, 2015) morning through different local media houses an arrest warrant was out for Robinson regarding a murder case that took place this year in August.
In a press communique issued by The Royal St. Christopher and Nevis Police Force, on the morning of Friday (Aug. 7), police discovered Albert Myers' motionless body with what appeared to be multiple gunshot wounds in his Lower Stoney Grove home in Charlestown, Nevis.
According to head of the Nevis Division, Superintendent Hilroy Brandy, "Upon arrival, the officers noticed the door to the residence was ajar and upon entering the home for further investigation found the lifeless body of the victim." (Source SKNvibes)
Commissioner Queeley confirm to 721news that Robinson was called in at that time to be question as a person of interest, but was never charged with murder and was let go. Robinson never went court to be acquitted from any murder case in St Kitts or Nevis.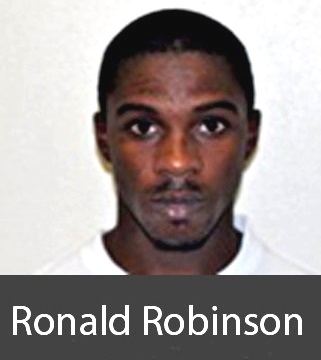 On Nov. 30th, Monday night the two suspects robbed the gas attendant at SOL Gas station in Cole Bay and during this process, fatally shot him after which they fled and attacked the SOL Gas Station in Simpson Bay where they conducted their second robbery for the night. That same night they was arrested by the KPS Police.
On Thursday Dec 03rd, the two suspects Brendon Dixen (22) from Sint Maarten and Ronald Robinson (23) from Nevis dressed in forensic garb, were brought before the judge of instruction with their identity closely being protected by the authorities.
In his decision the judge of instruction extended their detention with eight more days, just as the Public Prosecutor has requested to facilitate the investigation.
Contributor: SKNvibes.com, sxmislandtime.com and 721news.com 
Related Story…. Click Here >>> *** {VIDEO} UPDATE ***: Shooting Suspects caught; Gas attendant shot dead at Tackling Gas station Colebay
Related Story…. Click Here >>>>The two SOL gas station robbers Brendon and Ronald detention was extended with 8 more days
Source: 721 news Assistant Commissioner of RSCNPF Ian Queeley,: NO ARREST WARRANT IN ST KITTS OR NEVIS FOR RONALD ROBINSON