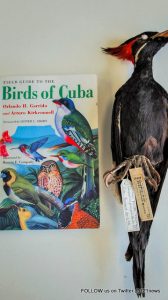 BirdsCaribbean warmly welcomes the news that the Governments of the United States of America and Cuba on November 24, 2015 signed a Joint Statement on Environmental Protection that creates a framework for cooperation on a number of pressing issues, including the protection of endangered species and their habitats, the prevention of wildlife trafficking and the protection of migratory bird species. The U.S. Department of State will be encouraging agencies such as the U.S. U.S. Fish and Wildlife Service (USFWS) to work with its Cuban counterparts at the Ministerio de Ciencia Tecnologia y Medio Ambiente (CITMA) on this new arrangement, which is a reflection of the new openness and diplomatic ties between the two nations.
Judith G. Garber, Acting Assistant Secretary at the U.S. Department of State's Bureau of Oceans and International Environmental and Scientific Affairs, responded positively to a letter from BirdsCaribbean's Executive Director Dr. Lisa Sorenson, urging deeper cooperation to protect Cuba's bird life and biodiversity. Coincidentally, the cooperation agreement was signed on the same day that Ms. Garber received Dr. Sorenson's letter, which notes that the organization's 21st International Meeting will take place in Cuba in July 2017.



BirdsCaribbean has been working with and supporting research and conservation activities in Cuba for a number of years, to the limited extent allowed, including collaborations with professors and students at the University of Havana. In her letter, Dr. Sorenson points out that both Cuba and the U.S. are signatories to several important international agreements on environmental protection, including the Ramsar Convention on Wetlands of International Importance, the Convention on International Trade in Endangered Species of Flora and Fauna (CITES) and others. There are many shared interests and concerns, and strengthened ties can only benefit both countries' efforts to protect their environments in the face of many common challenges, including climate change.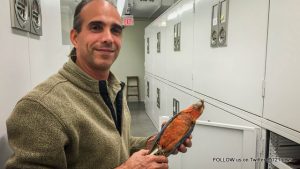 Cuba is a treasure trove of biodiversity, including its birds. Three hundred seventy one bird species have been recorded in Cuba, 26 of these are endemic to the island and 30 are considered globally threatened. Cuba is also a crucial stopover point for over 180 Neotropical migratory bird species that fly to and from the U.S. every year, resting and refueling or spending up to nine months wintering in Cuba. BirdsCaribbean regards the trade in caged birds and the loss of habitat from development as two major threats to migratory bird populations and a critical area of conservation focus on the island.
Cuban scientists made a number of presentations at BirdsCaribbean's 20th International Meeting in Kingston, Jamaica in July 2015, when artist and conservationist Nils Navarro launched his ground-breaking publication, "Endemic Birds of Cuba: A Comprehensive Field Guide." The U.S.-Cuba agreement will be beneficial to many academics and institutions in the country, opening up a new era in communication and cooperation for the conservation of migratory and threatened endemic birds.
Source: 721 news BirdsCaribbean Welcomes New U.S.-Cuba Cooperation on the Environment Ahead of 2017 International Meeting