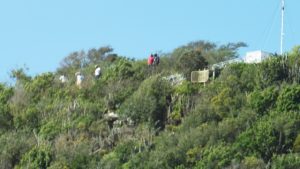 COLEBAY, St. Maarten
— Two hikers who were hiking at the top of the Cole Bay hill connecting to the Alexis Arnell road, stumbled on human remains
Sunday
.
The Police were contacted and detectives were dispatched to the scene to start an investigation.
The detectives were seen on the hill together with the hikers who discovered the remains.
Police spokesman Chief Inspector Ricardo Henson 
Sunday
confirmed that the remains were human.
He however noted that it could not be determined if it is a male or female as what was found were only the skeleton remains of a human.
The Forensic Team of the Police Force has also been called in to conduct an investigation and it can be expected that the team will be trying to find answers to questions such as the sex and identity of the remains.
Just how the body arrived at that location will at some point be also determined.
More information on this case can be expected at a later time.
Source: 721 news *** BREAKING NEWS *** Hikers stumbled what seems to be human remain in Colebay hill