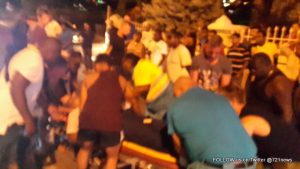 PHILIPSBURG, St. Maarten – A senior Police Officer was rushed to the St. Maarten Medical Center (SMMC) on Sunday evening due to injuries that he suffered while riding his assigned police motorbike.
The officer has been identified as Mayor Ranis.
It is said that the officer collided with a van and as a result of this, he lost the lower part of his foot.
According to eye witness, the officer over took a car but was unable to fully complete the maneuver due to an on coming mini van which managed to stop before the officers motorbike slid into the front of the vehicle.
During the slide the officer is said to have lost the majority of his lower foot as it was grinded off during the slide.
The accident took place at approximately 8:45pm on the L.B. Scot Road in the vicinity of the former Sheik Supermarket.
The Officer was rushed to the SMMC by ambulance.
*** Caution Video has strong obscene Language ***
Police Officer Chandler once again came to abuse his Police Power by grabbing Gromyko Wilson 721news reporter phone after he was covering the bike accident scene. Last he attack the reporter and arrested him base on nothing Prosecutor order the police to release him without any charges. The KPS internal affairs Dept refuse to take Wilson statement as he wanted to file a complaint of police brutality and abuse. This is pure Police abuse toward media worker executing his job.
Source: 721 news *** BREAKING NEWS *** POLICE OFFICER LOSES FOOT IN BIKE ACCIDENT {*VIDEO*}