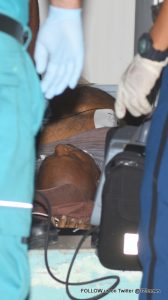 PHILIPSBURG, St. Maarten – A mid aged gentleman from the Dominican Republic named Patricio, became the islands first murder victim for 2016.
Patricio or "Barba" as he is nicknamed, died as a result of gunshot wound that he sustained from and unknown gunman in the privacy of his home Monday evening sometime after seven in the district of Sucker Garden.
His home is located behind the Rainbow Supermarket in Sucker Garden.
Police Spokesman Inspector Ricardo Henson confirmed that someone was fatally shot Monday evening and that his colleagues are now trying to piece together the evidence to determine who is responsible for the murder and the circumstances surrounding it.
Sources in the area told our news room that "Barba" was a businessman who collects metal and other scrap iron which he resold.
It is believed that "Barba" was the victim of a robbery  which was carried out in-order to take his day's earnings. This theory is not yet confirmed by the police.
A statement from the police can be expected later this evening.

Source: 721 news *** BREAKING NEWS ***: Unknown gunman gunned down "Barba" in Suckergarden