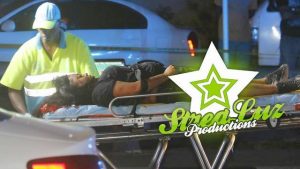 WILLEMSTAD, Curacao — On sunday January 3rd at approximately 12:45am  Police central dispatch , dispatched some patrols from Rio Canario and Otrobanda to Helmin Magno Wiels boulevard in the area of Moontjesweg for a shooting case. From preliminary investigation can be deduced that they were a high speed chase between 2 vehicles that began on Moontjesweg.
During this persecution it was likely that one of the occupants of one of the cars began shooting at the other family car. During the persecution the family car that had 6 persons in it 2 adults and 4 minors ran into the railing at Helmin Magno Wiels boulevard.
Both the 2 adults male driver and his partner  and the 2 minors received gunshot wounds, they were transported  with urgency to the St.Elizabeth hospital for further medical treatment. 2 of the minors escaped with no injuries. At 5.30am the sad news was received that the lady occupant Janishairah Jano born in Holland march 1st 1989 died due to consequences of gunshot wounds she received.
In the vehicle police found a hand gun which was confiscated.
Investigation of the case will continue anyone that have information with regards to this case can call 917 or the anonymous line of 108.
Source: 721 news Curacao: Shooting with fatality