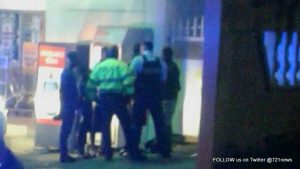 ST PETERS, Sint Maarten — The Special Robbery Unit is presently investigating an armed robbery which took place on Tuesday January 5th at approximately 07.20 p.m. at Desam Supermarket located on the Sint Peters road.
The call came into the Emergency Dispatch informing them that an unknown man armed with a handgun had entered the establishment and grabbed the cashier by her blouse. He then threatened her to use his weapon if she did not cooperate.
The robber forced the cashier to open the cash register at which time he took an undisclosed amount of cash. The suspect then fled the scene.
A search of the area was done by the investigating officers however no suspect in this case has been arrested.
The police is taking this opportunity to ask anyone in the community of Sint Peters who have information regarding this armed robbery to get in contact with the police Department by calling 54-22222 or the tip line # 9300.
Source: 721 news Desam Supermarket located in St Peters got robbed.