PORT ST. MAARTEN, Sint Maarten – Management of Port St. Maarten is very happy to participate in the Dutch Caribbean Coast Guard Open House onSunday, February 21, by accommodating the various vessels that will be docked at the piers for the event.
Have you always wanted to see how a Coast Guard cutter or a Navy ship looks like on the inside? Always wanted to know how they operate and what they stand for? This is your opportunity by visiting the Coast Guard Open House at the Cruise Terminal in Point Blanche.
The Dutch Caribbean Coast Guard is celebrating their 20th anniversary this year and has organized an Open House on Sunday from 10.00 AM to 4.00 PM. During the entire day, ships from the Coast Guard, Royal Netherlands Navy, St. Kitts & Nevis, Anguilla, United States and the St. Maarten Sea Rescue, will be open for public tours.
Parking for the general public will be available at the Port St. Maarten facility. Guests are asked to follow the instructions of security guards. Parking will be open from 9:30 AM and closed at 4.30 PM sharp.
Once guests for the Open House find a parking spot, they can walk around via the sidewalk to the main entrance.  Photo I.D. is a requirement for entering the facility. Bags and other items may be subject to inspection.
Throughout the day, there will also be demonstrations with the Coast Guard vessels on the water, and the Dash-8 patrol aircraft in the air.
The Dutch Caribbean Coast Guard works closely with several partners such as police, customs and immigration on Sint Maarten. The Coast Guard also has good connections with neighbouring territories and countries.
For example, the Rescue and Coordination Center (RCC) in Curaçao coordinates on a regular basis Search and Rescue actions (SAR) with its partner RCC in Fort-de-France, Martinique.
Several SAR operations have been conducted in good cooperation using both French assets and assets of the Coast Guard. This includes flying assets (eg. planes, helicopters) from substation Hato in Curaçao, and maritime assets from substation Sint Maarten.
Regarding maritime law enforcement, both the French and the Dutch Caribbean Coast Guards have to coordinate their operations due to the proximity of territorial boundaries.  Both agencies exchange valuable information on a regular basis.
The Dutch 'HNLMS De Zeven Provinciën,' is an air defense and commando frigate which is stationed in the Dutch Caribbean. The Royal Netherlands Navy has four of these ships in its fleet.
In order to conduct Coast Guard tasks from HNLMS De Zeven Provincien, a boarding team from the Coast Guard Substation Sint Maarten is stationed on-board during operations.
The naval vessel has been tasked with counterdrug operations and humanitarian disaster relief, especially after the passing of a hurricane. The Navy also carries out inspections of illegal fisheries, environmental offenses and Search and Rescue tasks.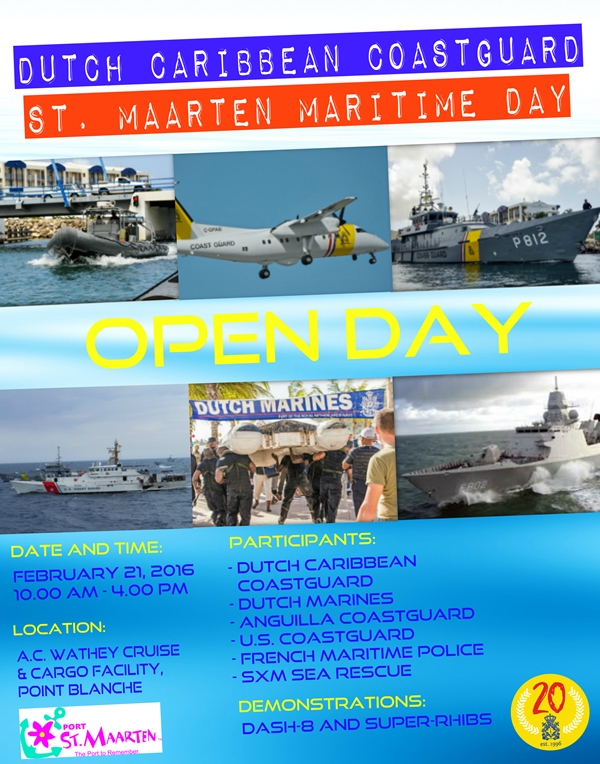 Source: 721 news Dutch Caribbean Coast Guard Open House this Sunday at Port St. Maarten