By Today Newspaper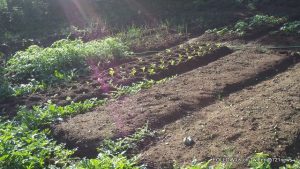 CUL DE SAC, Sint Maarten –– Members of the Dutch Second Chamber André Bosman and Ronald van Raak visited one of the kitchen gardens in the St. Peters district and said that they were happy with the initiative by local resident Denicio Wyatte who has a flourishing garden where he cultivates a number of crops.
The two politicians saw a similar type of farming during their visit to Statia and note that people complain about the high cost to import food in their communities. "The islands have similar soil and if they grow more they will be able to feed themselves and sell some of it," they said. "If done at a larger scale, they may be able to export some of the crops to the neighboring islands."
Bosman and Van Raak said that agriculture is a significant source of income for the Netherlands – around €70 billion per year was appreciated. There was also a 70-gallon water tank in the kitchen garden for irrigation purposes. One of the universities in the Netherlands – Wageningen – has farming-experts. "Given the opportunity they are able to grow food in the Sahara desert," they said.
The two politicians said that St. Maarten should not only be for large hotels and second homes for politicians but also for agriculture so that the island is able to feed its people with locally grown products that are healthy and affordable.
"Farming is one of the bases of a community. It is an honest job that is much better than working in the hotels and the casinos. The government should lend its support to local farmers," Bosman and Van Raak said.
Source: 721 news Dutch MPs visit kitchen garden