PHILIPSBURG— Five St. Maarten locals, namely Shakiel Dormoy, Angela Brown, Sekou Friday, Micheline Warner, and Ulrieke Wouden, received a full scholarship from the foundation Education for Us All in order to attend the University of St. Martin (USM).
Mr. Julien Lake, director of the foundation "Education for Us All" recognized the endeavor as being "Complementary" in describing the relationship between the foundation he chairs and the Department of Study Financing. The latter leads in offering the next generation the opportunity to become the future leaders and professional ambassadors of St. Maarten. Education For Us All grants those who do meet the criteria of Study Financing, a chance to also do the same.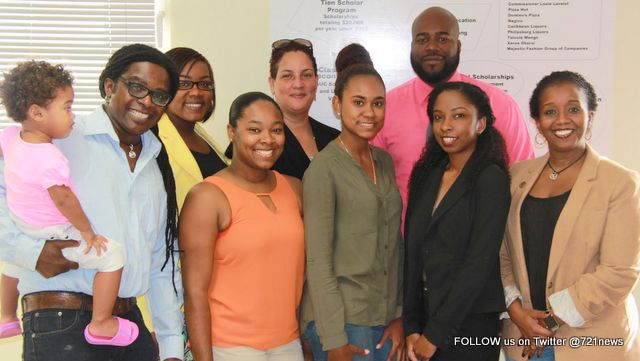 Supporter and one of the main initiators of the cause, MP Tamara Leonard, concurs with Mr. Lake adding a Christian twist to his explanation. "To God be the Glory. It is said that it is better to teach a person to fish, than to give them fish. But what happens when that person wants to, when that person has the discipline, and has done their best, but because they lack the right papers, isn't afforded an equal chance?" MP Leonard asks this rhetorically, and answers, "well then we have to take responsibility, and say, since you were born here, you grew up here, went to school here, but because of circumstances you don't have the right papers, we of "Education for Us All" supported by "I Am SXM Foundation", through the good practices of concerned business owners and managers, will offer you Sint Maarteners without the right papers (cause you too are our own) an opportunity to develop yourself and your country".
Dr. Francio Guadeloupe, the President and Interim Dean of Academics, thanked Mr. Julian Lake and the several businesses for their support, these being PRIME DISTRIBUTORS, LE GRAND MARCHE, ACE MEGA, DOMINOS PIZZA, ALL WASTE IN PLACE, NAPA AUTO PARTS, CLEAN ST. MAARTEN, ROTARY, ST. MAARTEN, CARIBBEAN LIQUORS, and MANRIQUES & CAPRILES. He promised that the institution would take good care of these five recipients who will start at the USM in January 2016.
Source: 721 news EDUCATION FOR US ALL AWARDS SCHOLARSHIP TO 5 LOCALS