SUCKERGARDEN, St. Maarten, – The Walichi Basketball Association will be hosting it's 2nd LBC All Star Weekend this upcoming SaturdayDecember 12th and Sunday December 13th at Melford Hazel Sports Complex in Sucker Garden.
The Saturday schedule will start at 1:30pm. The schedule is as follows: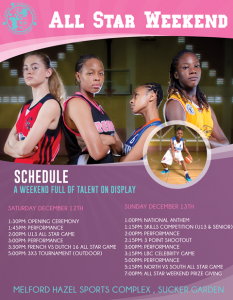 1:30PM: Opening Ceremony
1:45PM: Performance
2:00PM: U13 All Star Game 
3:00PM: Performance 
3:30PM: French VS Dutch U16 All Star Game
5:00PM: 3X3 games (Outdoor)(2 F/1 M Per Team)
The LBC All Star Weekend concludes on the Sunday with a packed day.
The schedule is as follows:
1:00PM: National Anthem
1:15PM: Skills Competition (U13 & Senior)
2:00PM: Performance – Brat and DT & OTG
2:15PM: 3 Point Shootout
3:00PM: Performance – Sigma Defense
3:15PM: LBC Celebrity Game 
5:00PM: Performance – Jabz York
5:15PM: North VS South All Star Game 
7:00PM: All Star Weekend Prize Giving
The weekend will have various games for all the age groups to showcase their skills and talent on the floor and guest performances for the fans. The Celebrity All Star Game will have actors, writers, singers, Dj's and various other professional functions in the community such as DJ Outkast, King Vers, SoloKween, Latoya Lake (Writer), MP Leona Marlin Romeo, Rene Violenus and so much more.
The weekend will close off with the North Vs South All Star Game with the top 16 players so far in the season and the prize giving.
The female ballers look forward in seeing you coming out and bringing a classmate, friend, neighbour or family and enjoying a fun but competitive weekend.
Source: 721 news Female Ballers To Display Talent This Weekend During LBC All Star Activities