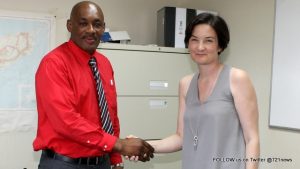 ANGUILLA — Her Excellency the Governor Ms Christina Scott this week visited Police Headquarters to personally thank the members of the Royal Anguilla Police Force for their hard work over the recent months.
"I wanted to come down the RAPF Station in person to thank all the officers for their hard work over the recent months," said Her Excellency, "I also wanted to encourage them to keep up the good work.  There have been some good policing successes recently, especially in catching people with illegal firearms."
The visit which took place on Monday 14th December, 2015 saw the Governor meeting with COP Mr Paul Morrison and other available members of the staff as she toured the station.  HE spoke with the members of the Criminal Investigation Department and was briefed on their various tasking by Senior Investigating Officer, A/Insp. Randolph Yearwood.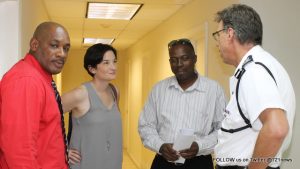 In speaking with the officers HE said, "The most recent shootings should make it clear to us all there is more to be done.  Very simply, the more the public cooperate with and give information to the police the more successful they will be.  Every person in Anguilla benefits by collectively doing everything we can to ensure Anguilla remains one of the safest islands in the Caribbean."
"I am delighted that HE the Governor was able to come down and speak to the officers personally," said Commissioner of Police Paul Morrison. "It will certainly go very long way in boosting their moral and giving them the reassurance that what they do is not taken for granted."
At present the Criminal Investigation Department is actively investigating four murders and several armed robberies and burglaries.
Source: 721 news Governor visit Police Headquarters to commend officers