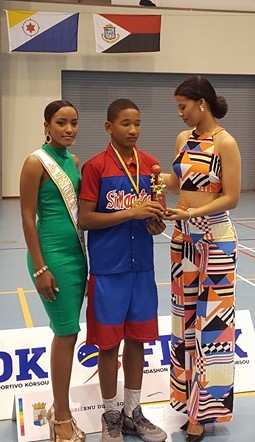 WILLEMSTAD, Curaçao – The Interscholastic Basketball Championship (IBC) selection team displayed great skill and talent throughout the tournament and were undefeated to become the 2016 champions.
The team consisted of 6 students of IBC champs Ruby Labega Primary School and 4 students of IBC sub-champs St. Joseph Primary School where they travelled to Curaçao on Thursday, March 10, to play against Aruba, Bonaire and Curaçao primary schools.
In the first game, St. Maarten went up against Aruba and won 17-8. Ismael Gumbs was the leading scorer with 12 points. St. Maarten later faced Bonaire and won 18-8. St. Maarten then faced Curaçao and won, remained undefeated in the tournament and was declared InterInsulair 2016 champs.
Displaying talent that was shown in the local IBC organized by Walichi Basketball Association, Gumbs also shone in Curaçao and was named MVP of the tournament.
The Walichi Basketball Association would like to congratulate these young talented boys for representing St. Maarten in Curaçao, performing well, showing sportsmanship and ultimately winning.
Thanks also go out to Heavenly Water, Department of Sports and FDDK in Curaçao for making this trip possible. The delegation arrived back in St. Maarten on Sunday, March 13.
Source: 721 news IBC selection team are InterInsulair 2016 champs