St. Martin and the Caribbean region could celebrate with pride, the recent accomplishment of one of its daughters, Dr. Erna Mae Francis-Cotton on being a #1Bestselling co-author of Success from the Heart; which ranked # 1 in several categories including business, health and stress and mid-life management. According to the publisher, "Success from the Heart inspires the reader to heed that voice of truth, resident within him or her."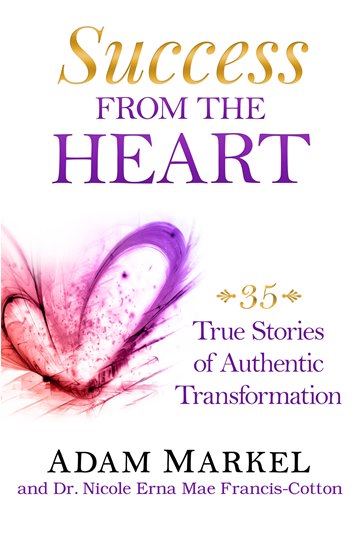 Adam Markel, CEO of New Peaks™, the largest personal development training organization in the world, gathered 35 entrepreneurs to share their powerful stories of heart-centered transformation in their new book, Success from the Heart and Dr. Francis-Cotton had the prestigious honour of being chosen among the thirty-five authors.
Dr. Erna Mae Francis-Cotton, visionary and co-founder of Victorious Living Foundation (VLF), established on St. Martin in 2002, bravely shares along with the co-authors candid accounts of triumph over adversity and compelling stories about finally honoring their true callings. In addition, they generously offer keen insights, tools and resources to help the reader experience fulfillment on their path to real and lasting success.
Francis-Cotton, a native Antiguan, has lived most of her life on St. Martin. She is an alumnus of Swetes Primary School, The Methodist Agogic Center, and The St. Maarten Academy. Growing up, she was so shy that classmates teased she'd grow up to be a librarian.
By allowing herself to tap into the power resident within her, Francis-Cotton's inner transformation has impacted thousands of lives through her authentic and innovative methods. She facilitates healing and reconciliation of hurting and frustrated individuals, families and couples. She is a certified success coach; holds a BA in Psychology, a Master's in Marriage and Family Therapy and an honorary Doctorate of Divinity.
Success from the Heart is available on Amazon. However 300 limited edition customized copies will be on the island in time for Christmas. You are invited to pre-order your copies from which 25% of the proceeds go towards VLF's work with youth and families.
Francis-Cotton's chapter, "Believe in Yourself & Press On," chronicles her journey in establishing VLF. She shares the compassion and passion with which the vision was birthed after returning to St. Martin and seeing the hopelessness and frustration among many youth.
To those struggling in pursuit of that dream, Francis-Cotton leaves this quote from the book: "Acknowledge where you might be playing the victim role. Readjust your perspective and reframe your challenges as opportunities to overcome. Make a conscious decision to connect to your Creator and earnestly seek His heart for guidance and direction in your life."
To learn more about Success from the Heart call 1-721-524-8731; e-mail lifecoach@victoriouslivingsxm.org or visit Victorious Living's website: www.victoriouslivingsxm.org and send an e-mail.
Source: 721 news MUST HAVE BESTSELLING BOOK SUCCESS FROM THE HEART INSPIRES READERS:  TO GO FOR THEIR DREAMS