Dangerous escaped prisoner still at large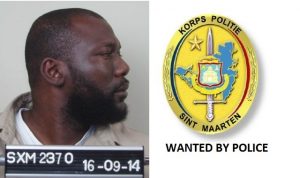 The prisoner by the name Kathron Fortune a.k.a. "Cuchi" who escaped from prison guards on Monday February 15th 2016 has not yet been recaptured and is still at large. An intense search to recapture this prisoner is still ongoing. The Public Prosecutors Office and Police Department on the day of the escape sent out a joint press release requesting the assistance of the entire community to help locate this prisoner.
The picture of the prisoner that was sent to all media outlets is dated September 16th 2014. His latest description is as follows:
Kathron Fortune was born on the island of Grenada, 38 years of age, he has a dark complexion and a full beard, weighs between 200 and 215 pounds, is approximately 5 feet and nine inches tall, he has a heavy set and strong posture, very low cut hair and possibly a pony tail.
The Public Prosecutors' Office and Police Department are reminding the general public, that assisting in the escape of a prisoner, keeping that prisoner in hiding, assisting that prisoner in any other form, to prevent his or her capture by authorities, is considered a criminal act and is punishable by law.
Anyone who have information that can lead to the recapture of this armed a very dangerous prisoner should immediately get in contact with the Police Department by calling 54-22222 ext. 214 or215, the tip line # 9300 or 911.
"Do not attempt to capture this prisoner on your own call the police."
---
4 suspects arrested for drugs and fire-arm possession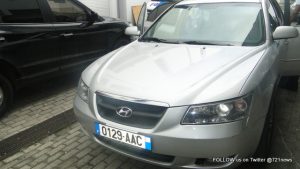 Four men were arrested and are presently in custody for further investigation in connection with drugs and firearm charges. The arrest took place on Thursday February 18th at approximately 12.00 p.m. during a general control by the Multi Disciplinary team on the Union road in the vicinity of the border.
A private vehicle with the French license plate 0129 AAC was stopped by the officers for control when the officers smelled the strong odor of marihuana coming from the inside of the car.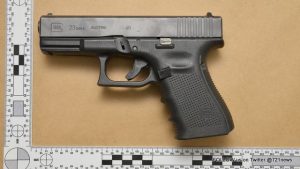 A search of the vehicle followed at which time two plastic bags each containing a considerable amount of compressed marihuana was found and confiscated for further investigation.
All four suspects namely K.A.L. (33), G.A.L. (25), T.V.W. (19) and D.B.R. (15) were arrested on the spot and taken to the Philipsburg Police Station.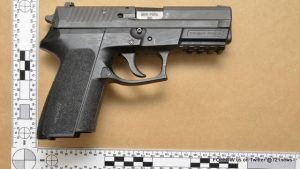 The vehicle in question was also confiscated for further investigation. At the police station a more in depth search of the vehicle took place and under the center console between the driver and passenger seats three loaded handguns were found and confiscated for further investigation.
The Police Department is informing all parents to pay very close attention to their children and find out who their friends are. Monitor their behavior during and after school hours. In this case the youngest suspect is a minor of 15 years old.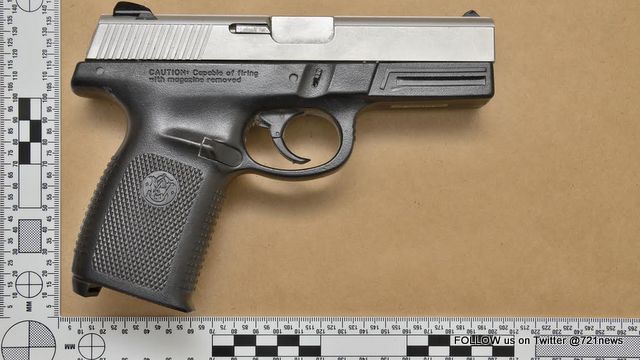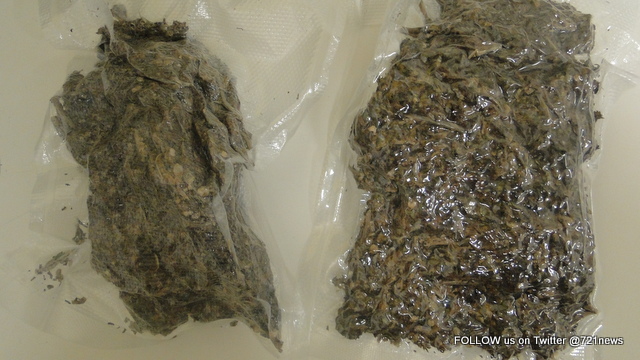 ---
 Police step increases general controls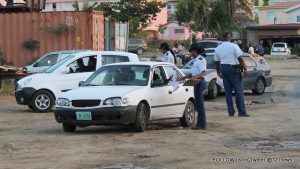 The Police Department is increasing their general controls and are advising all persons to walk with proper picture identification at all time.
All drivers should have their valid driver's license when operating a motor vehicle and make sure the vehicle they are driving is in good working condition and all documents for that vehicle are in order.
This is to avoid any unnecessary inconvenience if you are stopped by the police during their control.
---
"Catfish" investigation treated as a criminal investigation
In the morning hours of Sunday, January 10, human remains/bones were found by hikers walking through a trail on the Arlette B. Peters Road, also known as the Old Cake House Road in the Cay Hill area. The Police Forensic Department did an investigation on the scene whereby several bones and clothing were collected as evidence.
Due to the condition of the bones, an archeologist was called in to do an investigation. The results from this investigation were that the bones were human; the gender is male, between the ages of 25-35 years old, slim and short posture, not taller than 1.66 meters and had a gold tooth. The estimated time the body was lying on the scene is between 9 and 18 months.
It is suspected that this person did not die of natural causes and as a result a criminal investigation has started. An investigation on missing persons on the Dutch and French side of the island for a possible identification was done, but had no positive results. This person remains unidentified.
The Police Department is taking this opportunity to reach out to families in the community who have been missing a family member fitting this description to come forward and call the police tip line #9300, 542-2222 ext. 214/215 or make contact on their Facebook page.
---
Suspect in shooting arrested
Police and detectives are presently investigating a shooting, which took place on Tuesday, February 16, at approximately 10:00pm in area of Zorg en Rust in Dutch Quarter. The investigating officers on the scene learnt that an argument had taken place involving two men with initials C.M. and H.E., in connection with an ongoing feud between them. During the confrontation, shots were fired. C.M. was arrested as a suspect on the scene in connection with the investigation. A search of the suspect's home was also done and an amount of drugs were found and confiscated for further investigation. No one was hurt during the shooting.
---
Student arrested for drugs and weapon possession
On Wednesday, February 17, at approximately 12:00pm, a 16-year-old student with initials E.C. attending a secondary school was arrested by police on the L.B. Scott Road. Police were called because this student and some other friends were busy smoking drugs in the area. During the student's arrest, a search of his school bag was done, and four small plastic bags, each containing an amount of marijuana and a brace knuckle were found. The drugs and weapon were confiscated for further investigation. The student was taken to the Philipsburg police station for questioning.
The police department is again taking this opportunity to advise all parents to monitor their children and their activities during and after school hours. Monitor their behavior to see if there are any changes that could indicate that they may be using marijuana.
Signs of marijuana use are:
Physical changes:
Bloodshot eyes
Fast heart rate
Sleepy, lethargic
Lack of coordination
Increased cravings for snacks
Change in actions:
Confusion and lack of focus
Unusually talkative
Dropping studies or usual activities
Misjudging time
Secretiveness
For further information search the Internet for "Signs and Symptoms of marijuana use."
Source: 721 news POLICE REPORT: February 18th, 2016