Stolen car radio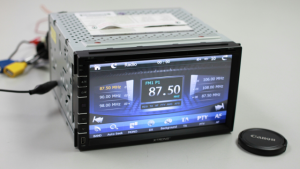 The police detective department is presently investigating the break-in of a vehicle and the stealing of a car radio. The incident took place between Friday January 7th and Saturday January 8th 2016 on the Pointsetta road.
The vehicle was parked on the side of the street when an unknown person or persons broke into the car and removed the car stereo from the dashboard. The radio that was removed is a touch screen XTRON-5, of which there are very few on the island.
Anyone who may have information regarding this stolen radio should get in contact with the police department. (See pic attached)
Attempted armed robbery and armed robbery
The Special Robbery Unit of the police department is presently investigating an attempted robbery of a female which took place on Back street on Tuesday January 12th at approximately 07.00 p.m. It was at that time that the female suspect arrived at her home when she noticed two unknown men dressed in completely in dark clothing with there faces covered.
The victim tried to leave but was obstructed by one of the men who was in the possession of a knife. This man threatened the victim with knife and demanded that she handed over her shoulder bag. The victim started to scream loudly. During the attempted robbery the victim suffered a cut to her left arm. The suspects then fled the scene on foot when they realized they had been caught in the act by persons in the area.
The Special Robbery Unit is also investigating an armed robbery which took place on Tuesday January 12th at approximately 08.30 p.m. at Wah Yun Supermarket in Cole bay. According to the report three men dressed in dark clothing, armed with a gun, a knife and a hammer stormed into the establishment and robbed two clients of their cash and also stole an amount of cash from the cash register.
After committing this act all three suspects fled on foot to an awaiting vehicle and left the scene. Police was on the scene shortly after and a searched the area for the suspects and the suspect vehicle. No one was arrested thus far in these investigations.
The police department is anyone in the public who may have information in connection with this investigation to contact the police department or use the police tip line # 9300.
Source: 721 news POLICE REPORT: Stolen car radio, Attempted armed robbery and armed robbery