PHILIPSBURG, Sint Maarten — With the holidays at our doorsteps, PuntoMio is proud to announce that they are currently having daily flights out of Miami to St.Maarten.
PuntoMio's customers now have a full week of possibilities to fly in their shipments out of the USA for affordable and competitive rates. PuntoMio believes in listening to the voice of their customers, and they are aware that with the increase of flights, customers can now make on line purchases with a shorter transit time.  PuntoMio services are offered by Soauliga Service point, located on the W.J.A Nisbeth Road #33 (former Movies Theater).
The management and staff of Soualiga Service Point and PuntoMio understand that service to their customers is a very important and this is why the increase in flights will only stimulate this.
In addition to this Soualiga Service Point also has great promotions for this holidays season, like the "6 weeks of Christmas", where there are fabulous prizes that you can win.
If you are thinking on signing up during the next coming weeks, this would be an excellent decision as Soualiga Service Point is offering 10% discount on your very next PuntoMio shipment after you sign up and also you receive a free PuntoMio t-shirt while supplies last.
Office & Retail Manager, Ms. Kenty Lichtenberg, is excited to announce this most recent development and encourages the general public to stay tuned as Soualiga Service Point and PuntoMio are working very hard in diversifying their services in 2016.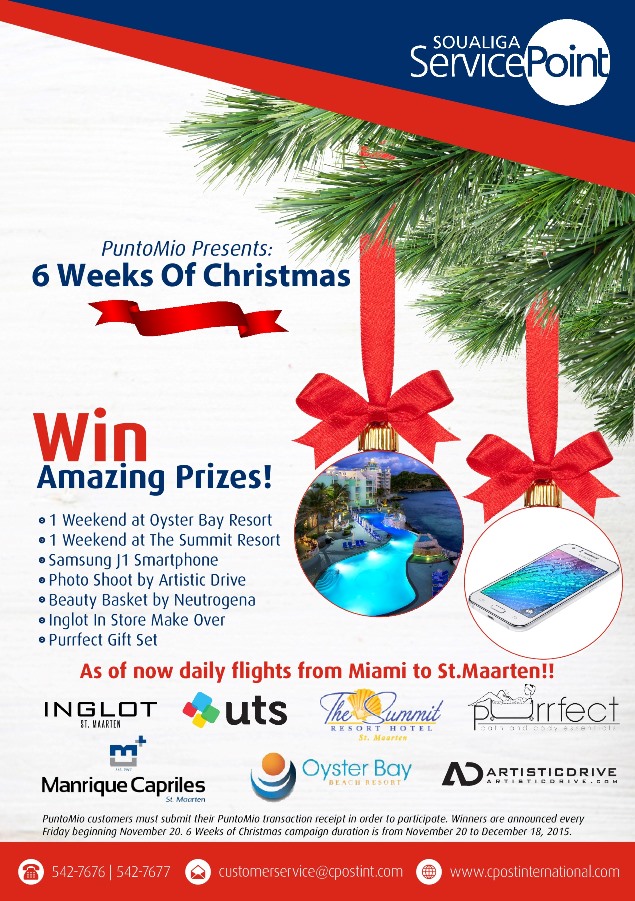 Source: 721 news PuntoMio Announces Daily Flights