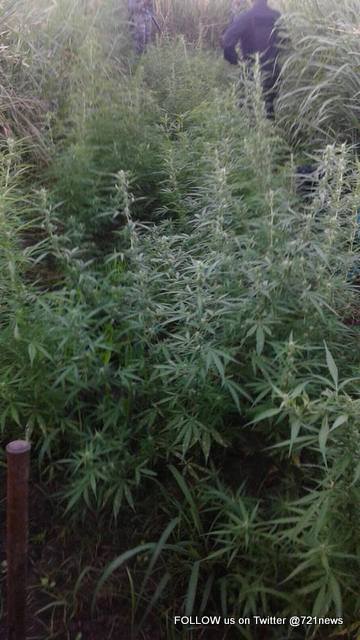 Basseterre, St. Kitts, January 21, 2016 (RSCNPF): The Royal St. Christopher and Nevis Police Force continues its search efforts on properties of interest in attempts to rid our communities of Controlled Drugs, Illegal Firearms, Ammunition and other articles that can used in the commission of a crime.
On Wednesday (January 20), a joint team of Police Officers from Division B, the St. Kitts-Nevis Defense Force and Her Majesty's Customs and Excise Department, conducted a Marijuana eradication operation in the Belmont Mountains. Five plots with a combined total of approximately 600 Marijuana plants ranging in height from 1 foot to 5 feet were uprooted. A number of garden tools and other equipment used for the cultivation of the plants were also seized and destroyed. The plants were taken into custody. No persons were present at the locations during the search.
In another exercise in the Ottley's area, the teams search an abandoned house and found a large quantity of Marijuana plants being dried and a large quantity of seeds. A further search of the house revealed ten (10) .45 rounds of ammunition, three (3) .40 rounds of ammunition, camouflage clothing and a black hooded jacket and a mask. The illegal items were seized and taken into custody.
The Division B Commander, Supt. Cromwell Henry thanked the partnering agencies for their valued assistance and cooperation which resulted in these significant seizures. "Operations like these are in keeping with the principles of the collaborative strategies and engagements, one of the objectives of the six point plan," said the Divisional Commander. He also noted that "similar joint operations will be conducted in the future as we continue to fulfill our mandate to reduce crime in the Federation."
Source: 721 news SEARCH OPERATION UPROOTS MARIJUANA AND UNCOVER CONTRABAND