PHILIPSBURG, Sint Maarten — The year will start with a Valentines fun campaign that would not only attract our customers but also Social Media Followers.
The popularity of Social Media has increased and clients are always looking for the next exciting thing to do or track on their Social Media Network. From tangible products to various services, it can all be found with just a click.
The idea is to have fun while participating in the Valentines fun campaign on Soualiga Service Point official Facebook page and look forward to become a winner of one of these fabulous prizes.
The participation criteria are very simple:
•
Like the Soualiga Service Point Facebook Page
–
https://www.facebook.com/soualigaservicepoint/
•
Submit a picture of "Your" Valentines
•
Share among your friends & invite them to like our page
•
The top 4 pictures with the most likes will be the winners
Soualiga Service point has once again partnered up with great corporate partners that have provided great prizes to support this promotion: UTS, T's Closet, Serenity Spa, Michelle's Glamour Salon have all jumped on board of this campaign and will also be spreading it via their respective Facebook pages as well. There are prizes from Samsung Smart phone to a Duo Spa Treatment from Serenity Spa, just to name a few.
These coming 4 weeks Soualiga Service Point looks forward to the constant flow of picture submissions and the healthy competition of becoming any of the top 4 Facebook winners.
Soualiga Service Point is an official agent of both Insel Air and also PuntoMio freight forwarding services, striving to provide their customers with excellent customer service and advice.
For more information, please contact Soualiga Service Point on 542 7676 or visit them on the Pondfill (next to the Subway).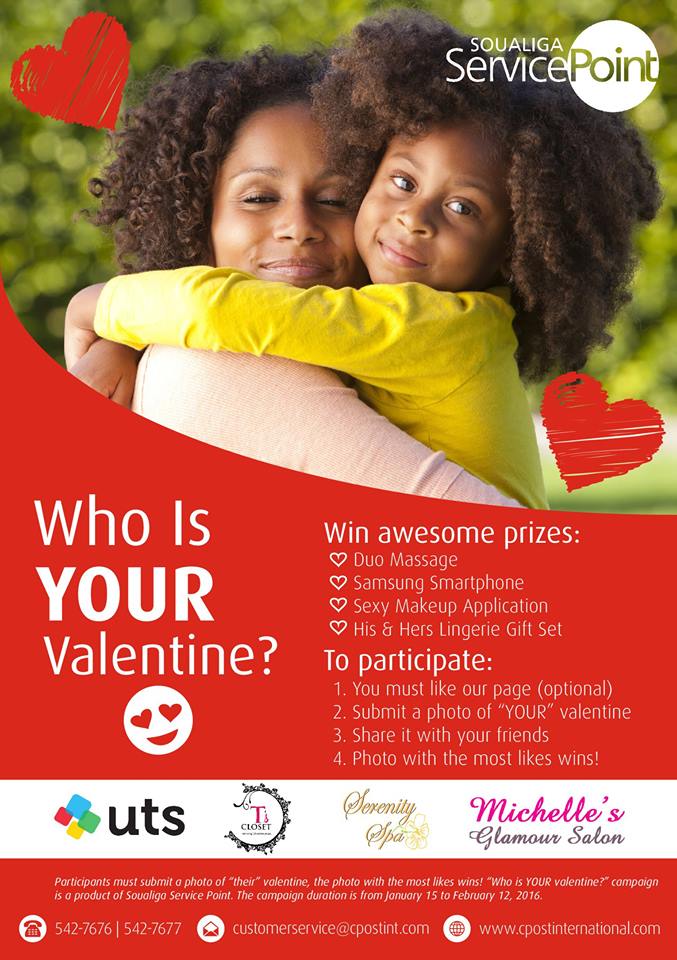 Source: 721 news Soualiga Service Point is happy to announce their first promotional campaign of 2016.