Basseterre, St. Kitts, November 13, 2015 (RSCNPF): In less than one week, Officers of the Royal St. Christopher and Nevis Police Force Anti-Narcotics Unit, Special Services Unit, and the Nevis Task Force of the Nevis Division have recorded another sizeable drug seizure and the arrest of a person involved.
A joint search conducted today (November 13) at 12.15 p.m on the residence of Patricesia James in Cherry Gardens, Nevis resulted in the seizure of 517 lbs of marijuana with a street value of ECC $7.75million dollars. This is the largest seizure by Police in recent years. James was arrested and has been charged with illegal possession and possession with intent to supply and will be expected to appear before the Court shortly.
According to Assistant Commissioner of Police with responsibility for Criminal Investigations, Mr. Ian Queeley, "this most recent seizure was a result of a joint operation conducted by our officers. It was also the result of hard work and commitment to the very challenging task at hand. Our teams successfully executed an operation that resulted in the seizure of this very significant quantity of illegal drugs and the arrest of one person. We will continue to investigate this find," said the ACP.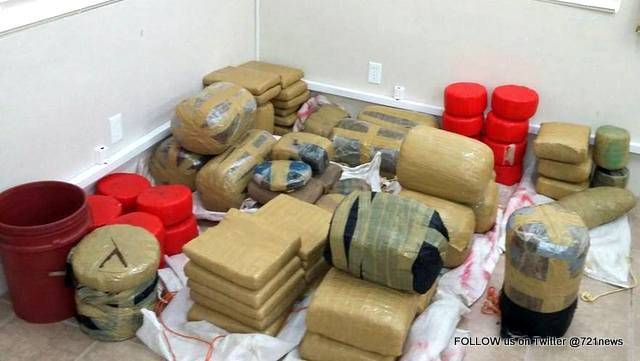 ACP Queeley further stated, "this operation is a demonstration that our Intelligence-Led Policing and Targeted Operations efforts as outlined in the 'Six Point Plan' is beginning to bear fruit." He further expressed, "it also clearly demonstrates that the Royal St. Christopher and Nevis Police Force is serious about what we do and we will remain vigilant and will be steadfast in our commitment to ensuring the safety of our citizens and our Nation."
As the members of the Joint Team gathered to inspect the seizure, members commended each other for their support. One member reflected that today's seizure was for the Force, "this one is for the Force, this is good news for the Force, we walk with our heads high again today. Today is a motivating day," he said.
Mr. Stafford Liburd, the Acting Commissioner of Police, who is abroad on Police business took time to send a message to the teams. Commissioner Liburd told the officers, "You should be proud of your work, you have been diligent, vigilant and professional. Today I salute you, and St. Kitts and Nevis thanks you for your great work. You have made the Force proud."
The Royal St. Christopher and Nevis Police Force also extends appreciation to the St. Kitts and Nevis Coast Guard for their assistance in the operation.
Commenting on the operation today, a member of the Anti-Drug Unit said, "today was another successful day for us, our efforts are paying off."
Source: 721 news ST KITTS POLICE SEIZE ESTIMATED ECC .75 MILLION DOLLARS WORTH OF MARIJUANA ON NEVIS