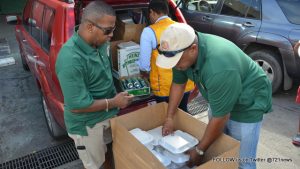 Philipsburg, Sint Maarten — The St. Maarten Lions Club delivered food and drinks to 25 underprivileged families in just over a two hour period on Christmas Day. As part of the 2014-2015 year program which coincides with its 45th Anniversary Celebration, the club fed 77 persons a hot meal which was catered by Bree's Kitchen to various districts.
The Lions Club members were divided in 3 teams that were driven by three taxi buses that went to various districts such as Cole Bay, Cay Hill, St. Peters, Simpson Bay, Dutch Quarter, Middle Region, Nazareth and Upper Princess Quarter. Each Lions team spent a few minutes with the families, sang a Christmas song and a Lion member prayed for the family. All families receiving the hot meals were very appreciative of the visit of members of the St. Maarten Lions Club.
"One of the key results from the visits to the various homes is that the St. Maarten Lions Club will do more research on the urgent needs of some the families that they visited on Christmas Day and determine where the Lions Club can assist these families in the near future" said Lion Alison Busby the Committee Chairman in charge of the Christmas Day Family Feeding project.
Source: 721 news St. Maarten Lions Club deliver food to 25 families on Christmas Day