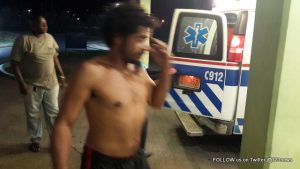 PHILIPSBURG, Sint Maarten — Police on Monday December 7th at approximately 07.30 p.m. arrested a suspect with initials C.P. suspected of threatening another man with a firearm.
The suspect was arrested without incident on the Amaryllis road. During the arrest of the suspect no fire-arm was found.
As the investigation continued, it turned out that the suspect in question was also the same suspect in the shooting incident of October 12th 2015 on the Flamboyant road in Saunders.
The shooting took place after a heated argument between the suspects and two brothers. During this shooting the two brothers were slightly injured from the gunshots that were fired.
Both victims were taken to the Sint Maarten Medical Center for treatment. After treatment both victims were released and could return home.
The suspect remains in custody for further investigation.
Source: 721 news Suspect arrested for threat and another ongoing investigation