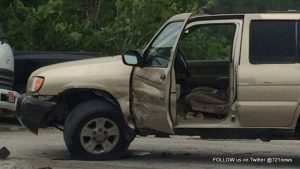 SUCKERGARDEN, Sint Maarten — The Police traffic department is presently investigating a traffic accident between two vehicles which took place on the Soualiga Boulevard on Thursday November 5th at approximately 12.15 p.m. Several calls came into the Emergency Dispatch informing them that an accident had taken place in the vicinity of the Melford Hazel Sport Complex and that one of the vehicles, a small white car with French license place, had landed in the trench on the side of the road.
The calls also informed the dispatch that the occupants of the vehicle were trapped in the car.
Several police patrols, Traffic Department, Paramedics and Fire department were sent to assist. The traffic in the area was diverted to allow the emergency services to carry out their duty. With the help of the fire rescue personnel, the female victim was removed from the vehicle.
There were no external injuries visible however she complained of pain in her legs and arms. She was treated on the scene and then transported to the medical center for further treatment.
The cause of the accident was probably due to the fact that the victim attempted to overtake the other vehicle at the same time that vehicle was making a left turn onto the Ring road.
Photos provided by The Real Paparazzi Network
Source: 721 news Traffic accident on Soualiga Boulevard