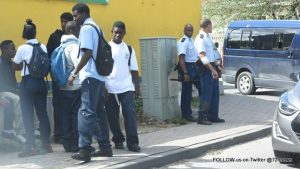 St Peters, Sint Maarten — Two students were reportedly stabbed on Thursday afternoon in the district of South Reward and one Police Officer wounded.
The students from an unidentified school were involved in an after school fight which has now resulted in serious injuries.
The students were rushed to the St. Maarten medical center by two ambulances.
The condition of the students are not known at this time.
Several police cars rushed to the scene of the crime and as a result an investigation into the fight has started.
Police spokesman Inspector Ricardo Henson confirmed the fight stating that it started in the vicinity of the PSVE making it way into the district of South Reward.
Inspector Henson also confirmed that two persons were arrested by the police.

---
// <![CDATA[
(function(d, s, id) { var js, fjs = d.getElementsByTagName(s)[0]; if (d.getElementById(id)) return; js = d.createElement(s); js.id = id; js.src = "//connect.facebook.net/en_US/sdk.js#xfbml=1&version=v2.3"; fjs.parentNode.insertBefore(js, fjs);}(document, 'script', 'facebook-jssdk'));
// ]]>
// <![CDATA[
(function(d, s, id) { var js, fjs = d.getElementsByTagName(s)[0]; if (d.getElementById(id)) return; js = d.createElement(s); js.id = id; js.src = "//connect.facebook.net/en_US/sdk.js#xfbml=1&version=v2.3"; fjs.parentNode.insertBefore(js, fjs);}(document, 'script', 'facebook-jssdk'));
// ]]>
// <![CDATA[
(function(d, s, id) { var js, fjs = d.getElementsByTagName(s)[0]; if (d.getElementById(id)) return; js = d.createElement(s); js.id = id; js.src = "//connect.facebook.net/en_US/sdk.js#xfbml=1&version=v2.3"; fjs.parentNode.insertBefore(js, fjs);}(document, 'script', 'facebook-jssdk'));
// ]]>
// <![CDATA[
(function(d, s, id) { var js, fjs = d.getElementsByTagName(s)[0]; if (d.getElementById(id)) return; js = d.createElement(s); js.id = id; js.src = "//connect.facebook.net/en_US/sdk.js#xfbml=1&version=v2.3"; fjs.parentNode.insertBefore(js, fjs);}(document, 'script', 'facebook-jssdk'));
// ]]>
Source: 721 news Two students were reportedly stabbed and one police officer wounded