ANGUILLA — The team of three senior retired UK Police officers, who were in Anguilla from 30th November, 2015 has completed their review of the recent murders in Anguilla and has left the island.
The team consisting of Mr. John McFarlane, Mr. Barrie Warburton and Mr. Philip Williams spent almost two weeks on island reviewing the files as well as assessing the investigative techniques, tools and resources of the RAPF.
The team was able to establish several new lines of inquiry in all the cases reviewed and has indicated that those lines are very promising.  This was disclosed by Mr. McFarlane during a press conference at PHQ on Wednesday 9th December, 2015.
"We recognized that the RAPF does not have the same resources as many of the forces in the UK but officers are working very hard and doing their best with the resources they have" said Mr. McFarlane.
"We have also identified several areas of good practice by the investigative team of the RAPF and based on our review they will have quite a great deal of work to do in the coming months on the cases we've looked at," said Mr. McFarlane.
"However there were three major challenges that we recognized," said Mr. McFarlane, "They are a need to Change the culture of information sharing, the modernization of investigative techniques and increased resources for the force."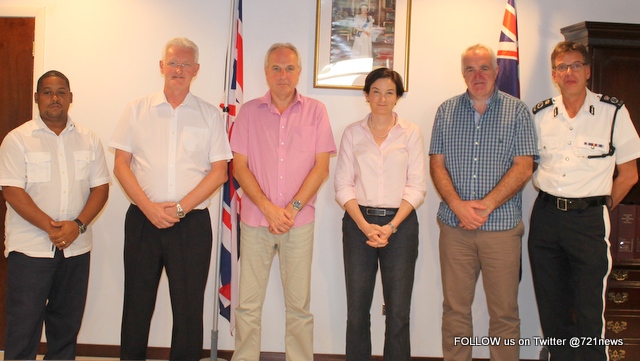 The teams also played a courtesy call HE the Governor Ms. Christina Scott at which time they updated her on the outcome of their review.
A detailed report on each of the cases reviewed has been presented to COP Mr. Paul Morrison by the team who also met with the members of the Criminal Investigation Department, Crime Intelligence Unit, Scene of Crime Unit and Senior Investigating Officers of all the cases reviewed to discuss their findings.  Several recommendation as to the way for ward has also been presented by the team.
"I am very pleased with the work of the team in the very short time they've been here," said COP Morrison.  "As a matter of fact they have done a lot more than what was expected of them.  They did not only look at the cases presented to them but they also provided assistance on cases that occurred while they were here."
"We do look forward to considering the review findings and suggested lines of inquiries and implementing many of them," said Commissioner Morrison.
Source: 721 news UK Team wraps review of murder cases in Anguilla