On Saturday November 28th, Women's Inc would like to invite St. Maarten/St. Martin to "V", an exclusively All-Women's Event being held at Dreams Beach Bar & Restaurant in Nettle Bay, French St. Martin from 7:30pm to 11:00pm.  There will be international live entertainment, guest speakers, a sumptuous hors d'oeurve buffet, wine tastings and cocktails, along with an open bar.  A Silent Auction will also be held in order to raise funds. As the UN General Assembly designated 25 November as the International Day for the Elimination of Violence against Women, proceeds with go to the Safe Haven, which is which is one of the most active non-profit organizations on the island dedicated to providing support to the Women and their children, who are victims of domestic violence.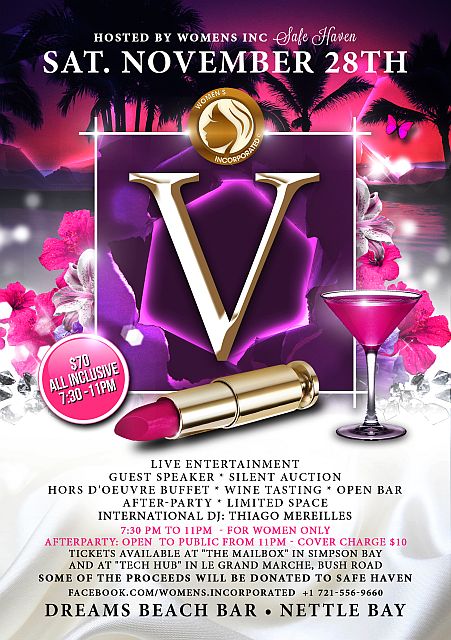 At 11pm, the gates will open to the general public where everyone will be entertained by the eclectic sounds of International DJ Thiago Mereilles. Tickets will be limited and will be on sale for $70 for the exclusive women's event at the Mailbox in Simpson Bay and at Tech Hub at Le Grand Marche.  Admission to the after-party will be $10 and can be paid at the gate. Dress for this "not-to-be-missed" event will be Caribbean Elegant.
"V" Events are all-women events and Women's Inc will be hosting these exclusive soirees throughout the year 2016.  Proceeds from these events will be donated to various charities as a way of giving back to the community.
Be on the look-out for the "V".
Source: 721 news "V", an exclusively All-Women's Event!!