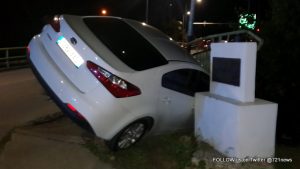 Philipsburg, Sint Maarten — On Wednesday Dec 30th around 1:30am, the driver of a white KIA car with French plate 1382AAC was driving on Bush road heading to the traffic light when he lost control and hit head on to the railings on Prince Bernard bridge.
He was not seriously injured, the paramedic was called to the scene and he got medical treatment, unfortunately the car he was driving  is assumed to be a rental is now a wreck. The traffic department is busy with the investigation.
Last weekend the police reported over 25 car accident during the Christmas Holiday weekend.
The Police spokesman Inspector Henson issue a statement saying: The police department is taking this opportunity to inform all drivers that traffic during the Holiday Season has been very busy and that they should pay keen attention when operating a vehicle.
Do not drive while under the influence of alcohol and make sure that your vehicle is in good working condition.
Make sure that you have your drivers' license with you at all time and that all documentation for your vehicle is in order.
If you are involved in a traffic accident do not leave the scene (hit and run) before the police arrive.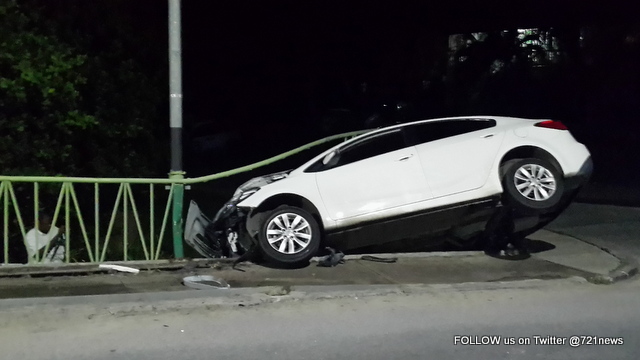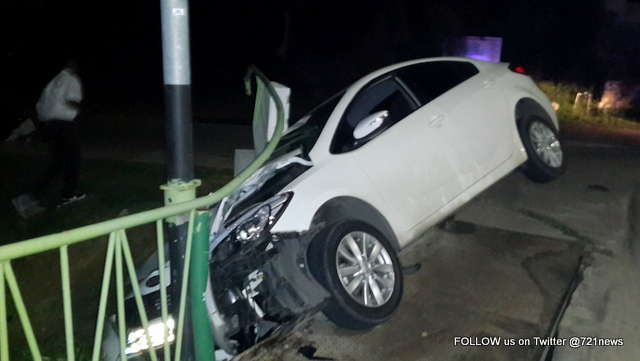 Source: 721 news *** VIDEO*** Another Car accident on Prince Bernard Bridge, driver is okay