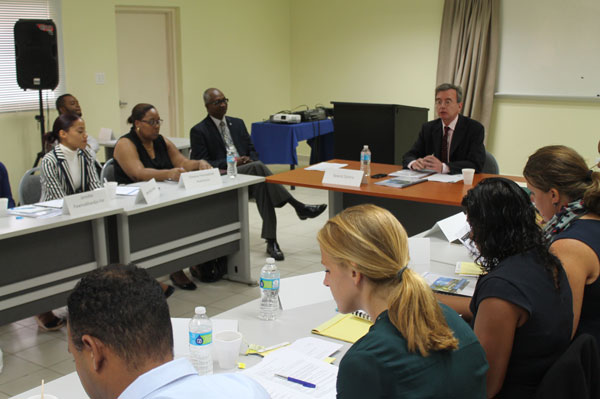 PHILIPSBURG:— The Department of Legal Affairs organized a one-day course on Legislation, including writing proposed laws, for civil servants today, March 8, at the University of St Martin.
Secretary General of the Ministry of General Affairs Hensley Plantijn invited the lecturer Sjoerd Zijlstra to give a course on the general topic in order to increase or refresh the legal knowledge of civil servants throughout the seven different ministries, who sent at least two representatives that deal with legal issues in their respective ministries.
Professor Sjoerd Zijlstra, Professor of Constitutional and Administrative Law at the VU University (Vrije Universiteit) Amsterdam, gave the course, which focused on the democratic and constitutional quality of legislation and the technical aspects of writing a law.
Participants were given background information on the criteria of writing a law and explanatory memoranda's, with the help of relevant advice, exercise practices, example laws and regulations. The civil servants were encouraged to look at the different aspects of law-making: what ought not be regulated, what has to be regulated, and how best to regulate such.
The organization of the course was done by the Department of Legal Affairs & Legislation and is part of a partnership between the VU University and the Government of Sint Maarten. Government paid Naf 1700,- to the VU University for the course.
Source: St. Martin News Network Civil servants participants in Legal course on writing laws.