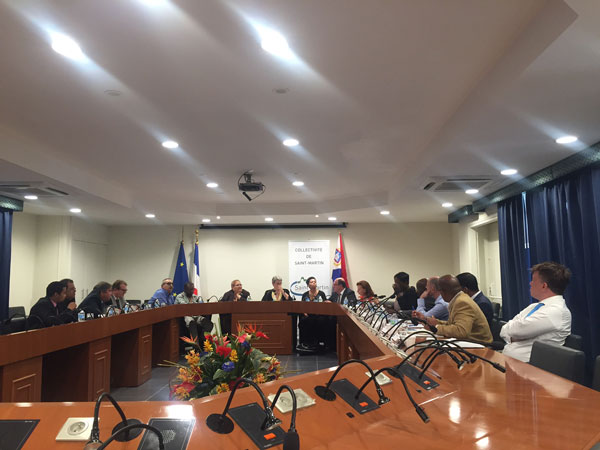 PHILIPSBURG:—- Prime Minister William Marlin, Minister Angel Meyers and their Dutch Technical teams met with the Perfet of Saint Martin, the President of the Collectivite and their French Technical teams on Monday to discuss the Cole Bay Sewage Plant collaboration project.
The aim of the meeting was to come to an agreement on the exact location of the Sewage Plant, as well as to discuss the orientation and the joint approach of this project.
Ultimately, both parties will proceed with finalizing the estimated cost for this project, as well as the investigation of the preliminary design, in terms of the technology, needed to complete this project.
During the meeting, the Dutch side delegation presented a proposal in which the plan is to reclaim about 6000 square meters of land from the Cole Bay lagoon, near the causeway, in order to build an 'island', on which the Sewage Plant will be constructed. The plant is planned to be submerged in the lagoon water. This plan is similar to how the Port was constructed on the Dutch side of the island.
During the meeting the French delegation had some concerns regarding the location of the plant and whether the plan would meet the exact requirements of the European Union. One of the requirements is that the sewage plant must be built at a minimum of 100 meters away from any residential areas. Another requirement was regarding weather conditions situations, and whether the sewage plant can withstand hurricanes, earthquakes and flooding.
The Technical teams of the Dutch side explained there is no other on-land possibility within financial feasibility. In addition, the teams stated that due to the densely populated areas on the Dutch Side there are no other locations that would meet the initial requirement.
The Dutch and French delegations agreed to have the technical teams of both counties work together to perform an environmental impact study, a risk assessment and a financial overview of the project. The meeting will reconvene within 3 weeks in order to determine if the project is in accordance with all European Union environmental and regulation laws.
Source: St. Martin News Network Cole Bay Sewage Plant location discussed, aditional assesment needed.