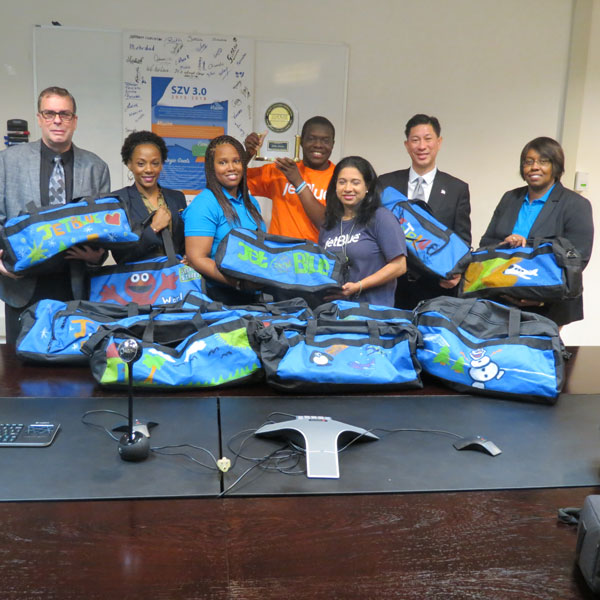 PHILIPSBURG:— Social & Health Insurances (SZV) has become the latest recipient of JetBlue's 'sweet cases' on Friday, March 4th, 2016.
JetBlue donated fourteen 'sweet cases' (duffle bags), decorated by JetBlue staff members filled with stuffed animals, coloring books, crayons, and a toothbrush with a timer. The bags were presented to the SZV in the presence of the Minister of Public Health, Emil Lee. The donation of the 'sweet cases' was made possible by JetBlue Supervisor, Shellian Ramchandani, assisted by JetBlue's Customer Service Representative, Christopher Green.
"JetBlue distributes sweet cases annually to various organizations on St. Maarten and this year is no different. As we celebrate our 11th J.D. Power Award for best customer service, this opportunity, to exercise our commitment to giving back to the community JetBlue serves, could not have come at better time. By donating these sweet cases, we trust it will bring a smile to a child's face. I am also very thrilled to learn of SZV and its 3.0 Vision geared towards excellent customer service", remarked Ramchandani.
"As part of the original team together with then commissioner Roy Marlin we negotiated for JetBlue to be in service to St. Maarten. JetBlue has consistently been a great partner to St. Maarten. This donation is simply a reinforcement of their commitment to St. Maarten not only in a commercial sense but also in a social sense. That is true partnership!" – Emil Lee, Minister of Public Health
The duffle bags will be given to children referred abroad via SZV, for medical attention. That same afternoon SZV was able to hand over the first 'sweet case' to a parent whose baby is scheduled to travel soon.
"We are extremely happy to receive this donation. These 'sweet cases' will surely bring a smile to many children. It is unfortunate but true that at this time we also have to refer small children abroad for medical reasons, it is always difficult, but we do our best to facilitate the process taking the needs of the children in mind. This small gesture is one that will brighten up their spirits as they prepare to travel abroad. – Glen A. Carty, Interim Director SZV.
Source: St. Martin News Network JetBlue donates sweet cases to SZV.