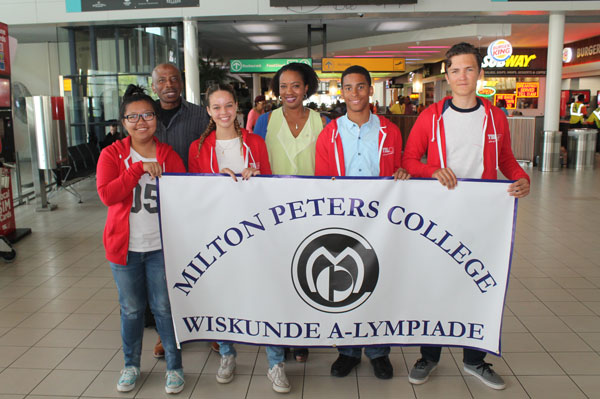 PHILIPSBURG:— Princess Juliana International Airport – Honorable Minister of Education, Culture, Youth Affairs and Sport, Silveria Jacobs was at the airport on Friday to see off the St. Maarten representatives at the 2016 Mathematics A-Lympiad. Along with the students, the delegation consists of mathematics teach, Mr. L. Blankendal and chaperoning parent, Jacob Snijders.
Melissa He, Loiusa Halman, Joshua Snijders and Simon Speetjens, all of the Milton Peters College, won the preliminary round for the Mathematic A-Lympiad in November and will represent St. Maarten at the final rounds on March 11 – 12 in Garderen, the Netherlands.
Minister Jacobs stated that it is important we celebrate our students who continuously strive for excellence, not only in extra-curricular, but academically as well. Students from the Milton Peters College have had many successes at the Mathematic A-Lympiad in the past, and these students will be successful in representing St. Maarten in the Netherlands in 2016.
The Minister also commended, the parent support staff of MPC, the parents of each student and especially Mr. Blankendal, who has been a mentor, guiding the St. Maarten Mathematic A-Lympiad team for many years.
Participating countries: the Netherlands, Denmark, Germany, St. Maarten, Aruba, and Iran.
Source: St. Martin News Network Minister wishes Math A-Lympiad students from the Milton Peters College success.