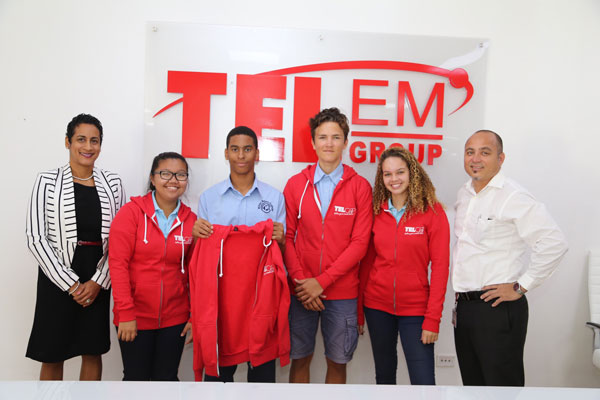 Pond Island:— Representatives of this year's Milton Peters College (MPC) Math A-lympiad team made a courtesy call on the TelEm Group Building on Pond Island recently to thank management and staff for their continued support as they prepare to compete in the international annual math-solving contest in the Netherlands.
The visit was made last shortly before team members, Melissa He, Louisa Halman, Joshua Snijders and Simon Speetjens left St. Maarten for the Netherlands where they will be competing against other talented math enthusiasts from Thursday. They were accompanied by Chaperon, Mrs. Nicole Halman.
On behalf of the group, team member, Simon Speetjens, accepted a sponsorship check from TelEm Group Chief Commercial Officer (CCO) Mr. Brian Mingo, and Marketing Officer, Chery Rismay, who also presented the team with a sweatshirt each for the trip.
"On behalf of the team we want to thank TelEm for continuing to support our efforts at the Math A-lympiad once again as a good corporate citizen. It means a lot to us to represent St. Maarten and MPC and we will do our best to bring the winning trophy back to St. Maarten," said Simon.
Mr. Mingo wished the students well, noting that support for education is high on the priority list of the company.
"I would only encourage you to have fun, enjoy the experience of meeting with and competing with your peers and come back with the trophy," urged the Commercial Chief.
The MPC Math A-Lympiad team is scheduled to return to St. Maarten next week Tuesday.
Source: St. Martin News Network MPC Math A-lympiad team thanks TelEm Group for sponsorship.