PHILIPSBURG – The Hillside Christian School DIGIKIDZ Program got a huge boost on Wednesday, March 2, when Nagico Insurances and Motorworld presented them with a donation of US $15,000 towards the project.
During a small presentation ceremony at the school, CEO of Nagico Dwayne Elgin said, "this is the beginning of something great, and we at Nagico believe that the greatest investment one can make is in knowledge."
The DIGIKIDZ program is an initiative geared at improving the level of education in school through the use of technology. The program seeks to outfit all classrooms at the Helmich Snijders Christian School with technology devices, and contribute to the installation of a full wireless network infrastructure with wifi, in not only classrooms, but also in offices.
Director of the Christian Schools Asha Stevens was thrilled with the donation, which was presented by Elgin, and Marketing Officer of Motorworld Lorenzo Gomez. This is the second donation towards this project made by both companies, which totals US $15,000. "Locally, you see who is here to help. There is no other school with such high tech devices and technology and we are very pleased and happy. We want to thank Nagico and Motorworld for their contribution, which totals to $15,000," said Stevens.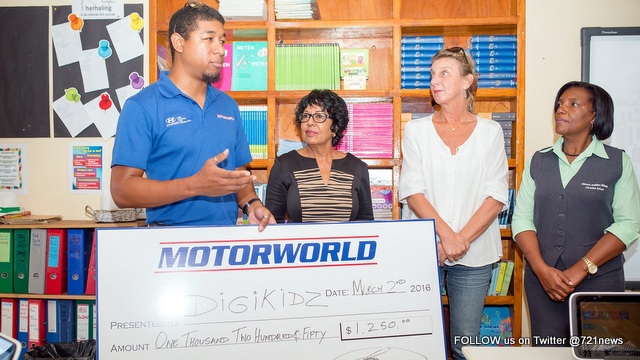 "We are very excited and very appreciative of this," President of Foresee Foundation Jose Sommers added. "We are in the final stages of the project and this money will allow us to outfit an entire class with laptop/tablet devices, so a big thank you to Nagico and to Motorworld."
The teachers and students also put on an excellent presentation for the sponsors, coordinated by Principal Blondell Sprott, in which students challenged the sponsors in a rousing game of "Know your Culture" in which they were required to quickly submit answers to questions about St. Maarten and its history.
"Motorworld is pleased to be part of this amazing project, which we know without any doubt will add value to the students and by extension to the school and to the community," Gomez said.
The DIGIKIDZ technology/ICT project envisions bringing ICT in St. Maarten primary schools on the island through joint efforts of the public and private entities. This project focuses on a modern physical ICT infrastructure and includes 21st century learning and teaching.
The project aims to increase and improve the use of technology among students and staff at primary school level, and to stimulate educational environment with challenging curriculum, while providing global access to information and refining critical thinking skills while fostering creativity.
Source: 721 news Nagico and Motorworld partner to inject ,000 in DIGIKIDZ program