Pond Island:— TelEm Group will once again be part of St. Maarten's island-wide volunteer program, SXM-DOET later this week, by supporting a volunteer effort to breathe new life into a rundown kid's playground at the Raoul Illidge Sports Complex.
The neglected playpark has seen better days and could even be considered dangerous for the young children who still play on the site each day. So much so that frequent visitor to the sports complex, and a mother herself, Mrs. Sharalee Lint-Beudeker, thought it would be a wonderful project to oversee under the DOET initiative to foster community volunteer work.
"It was a shame to see the small children in such a neglected environment each day, and even in that state they still used what little equipment was there," said Sharalee.
The dilapidated kid's playground at the Raoul Illidge Sports Complex will be given a major facelift under the annual SXM DOET program on Friday, March 11th and Saturday, March 12th thanks to a team of hardworking volunteers and sponsorship from TelEm Group, the Bureau of Telecommunication and Post (St. Maarten) and accounting firm BDO.
She said some new playthings and equipment have been bought and also some of the existing equipment have been welded and repaired where possible.
The grass has been cut and on Friday and Saturday a chain-link fence will be installed, while volunteers go over the entire park with new lick of paint.
"We will have signs up for parents and children and a bin where garbage can be discarded so that the playpark can be kept in good shape," continued Sharalee.
"We have personnel of TelEm Group, The Bureau of Telecommunications and Post (St. Maarten), and the accounting and advisory firm BDO registered already and we look forward to all the help we can get," said the willing volunteer, noting that other volunteers who wish to assist in this project can navigate to and register on the SXM-DOET website where they can see all the projects that will be taking place.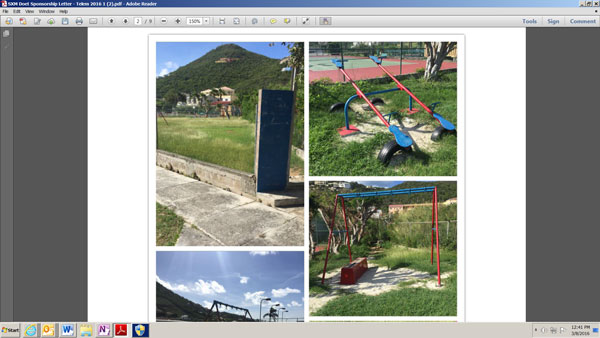 Sharalee says work will take place on both days from 9:00 am in the morning until 5:00 pm, however mainly prep-work will be done on the Friday since many of the volunteers will still be at work. The bulk of the finishing works to be carried out during the Saturday work session.
Source: St. Martin News Network Neglected" Kids playground to get a facelift with help of TelEm Group & Corporate partners.