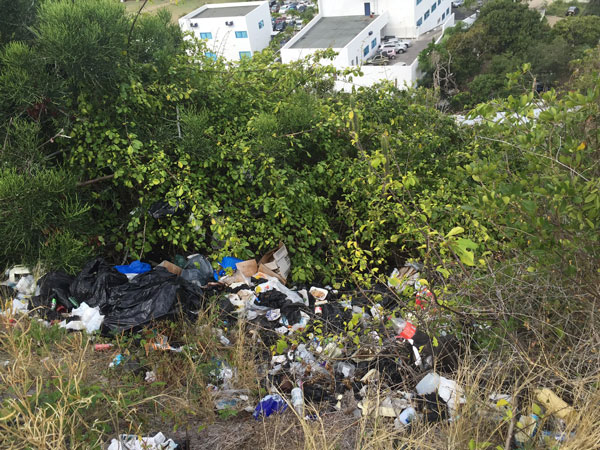 Pose Significant Environmental and Human Health Risks
PHILIPSBURG:— The St. Maarten Nature Foundation in the past few days has responded to reports of various illegal garbage dumps in different districts around St. Maarten. Concerned citizens have been reporting that both individuals and in some cases businesses have been dumping garbage in areas which are often close to residential areas. "When we were made aware of the issue we surveyed the areas and indeed we found significant illegal dumping of garbage at various locations but in particular by the Belair Pond, which looks like construction garbage, and also by the Over the Bank area in Philipsburg. In particular the Over the Bank location, close to the Vineyard Building and various other office buildings and residential areas is very worrying, with an estimated 8 tons of garbage being dumped there," commented Tadzio Bervoets, Nature Foundation Manager.
"We are calling on residents to be responsible when it comes to disposing their garbage. This is littering which is prohibited by law and which is an illegal act. We also urge our decision-makers to address this issue and to ensure that garbage collection occurs efficiently so as to avoid illegal garbage dumping. St. Maarten already has issues regarding waste management and this only compounds those issues," continued Bervoets.
Illegally placed garbage has serious consequences both in ecological terms and on human health. Plastics endanger wildlife and ecosystems and remains in the environment for hundreds of years because it does not biodegrade. Toxins from decomposing garbage also effects environmental and human health, especially if it is in a location which is not managed as a landfill.
"Another serious consequence of illegally dumped garbage is that it is a breeding ground for mosquitoes and other pests. Particularly now when so much is being done to control the breeding mosquito population because of the Zika, Chikungunya and Dengue viruses these types of dumps are a significant health concern," concluded Bervoets.
The Nature Foundation has contacted the authorities regarding clean-up and further monitoring of the sites.
Source: St. Martin News Network Numerous Illegal Garbage Dumps Recorded in Various Districts.