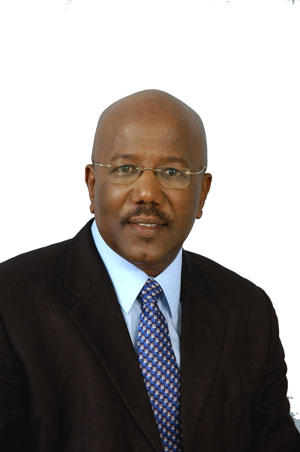 "My title as Prime Minister have not changed my personality, I speak to people anywhere."
PHILIPSBURG:— Prime Minister William Marlin responded to questions posed by SMN News as to why he chose to meet with MP Lloyd Richardson and the Leader of the UPP in his car driving around the island instead of meeting them in his office. Prime Minister Marlin said that he is tired of explaining himself on this matter but stressed that he was having lunch with Minister Gibson on the French side when someone called him and told him to expect a call from MP Lloyd Richardson. Marlin said the brief discussion he had with MP Lloyd Richardson and for him that was not a meeting.
The Prime Minister said shortly after he did get that call and MP Lloyd Richardson asked him to meet him at his home, Marlin said when he was asked where to meet the MP he did not object to it because his title as Prime Minister does not change his personality. He said he meets people every day and anywhere because if he has to meet everyone that wants to speak to him in his office then he will never go home. Further to that he said that he is more comfortable speaking to politicians in his car as he drives around the island because if they do meet at a restaurant or any public place they are being disturbed by members of the community who wants to greet them or speak with them about their issues. He also said the drive in Pointe Blanche did not last more than five minutes and it was the two Members of the United Peoples Party that came to them with a number of proposals, one being to form a government with political parties, and to eliminate the independent members of parliament namely the two that form the present coalition because the UPP leader made clear that if he forms the so called national government then he wants control over the Ministry of VROMI and TEATT. Marlin also made clear he was not interested in forming a government because his government is intact. The only delay they have now is to wait until MP Silvio Matser is released from police detention.
Marlin also made clear that his government needed the support of the other Members of Parliament for the 2016 draft budget and when he was called he felt it prudent to meet with the Member of Parliament who once support the budget presented by the United Peoples Party while being a member of the National Alliance. Marlin said at no time he was told that MP Heyliger was going to join them and when Heyliger joined them he listened to their proposals and did not comment except to laughing out loud. Marlin reiterated that MP Heyliger wanted them to form a government and then try to postpone the parliamentary elections that is scheduled for September 2016. He reminded that when the National Alliance objected to early elections the UPP that went on a massive campaign even to the Pope saying that the Marlin government were trampling upon the human rights of the people of St. Maarten, that people have a right to vote and this should not be denied.
Marlin further stated now that the UPP wants to form a government with the other political parties then it would be a good thing for them to postpone the upcoming elections to 2018.
Marlin appealed with the people of St. Maarten to focus on the action plan that his government has in place that will create jobs and will benefit the people of St. Maarten. He even reminded the people that it took the UPP nine months to establish a full cabinet while they plagiarized their governing program from the Red/White and Blue coalition.
Source: St. Martin News Network PM Marlin made clear that his meeting with MP Lloyd Richardson was not to form a government.