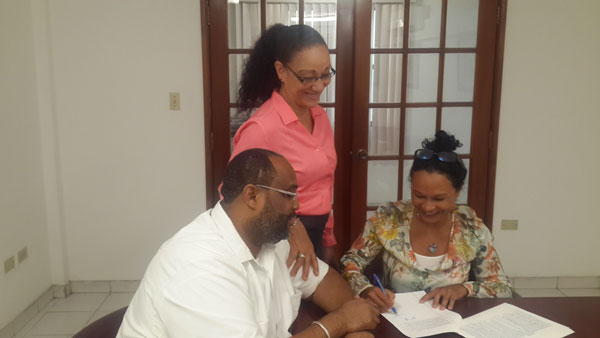 PHILIPSBURG:– On Tuesday March 8, 2016 members representing the new St. Maarten airline company, AVA SXM B.V. finalized on its company incorporation and sign off on all legal documentation at the Notary office of Tjon Ajong & Associates. During this visit, AVA's Vice President and Chairman, Mr. Olivier Arrindell review the company bylaws and give the notary an extended explanation on AVA's establishment and aviation plans. Ava SXM B.V. sister company to AVA Curacao B.V. which was organized at the end of 2013 as a new aviation company in Curacao find its self in difficulties in Curacao with PNP Ministers. When ask Mr. Arrindell on why Ava St. Maarten and why now, Mr. Arrindell indicated that AVA SXM B.V. has always been part of the airline triangle business model. Ava Curacao is still moving forward and now in the hands of Attorneys. Through their lawyer Chester Peterson's, the legal representatives of AVA Curacao B.V. are appealing the decision of the Minister of Traffic, Transport and Spatial Planning, Mrs. Suzanne Camelia- Römer ("PNP") in Curacao. The Minister did not approve their request for an economic permit to start the operations of the airline. This is according to the representatives of the airline. According to AVA Curacao B.V., despite several requests, the Minister still did not give them the documents in which her decision is substantiated. This proves, according to Peterson, that the Minister has no reasonable grounds to reject AVA's request for the economic permit and that she has something to hide.
Ava SXM B.V. is part of AVA Airways Jamaica, Ava Haiti S.A. and Ava Brazil S.A
AVA's objective is to create an aviation company which adds value to the Caribbean and Latin America air transport for St. Maarten and Curacao by contributing to the economy of the islands. Most important is to create safe, reliable along with additional airlift and more jobs creation for the islands. St. Maarten right now is suffering from a 53% unemployment rate among the youth whereby in Curacao its 42%. This is a very sad state to be in, St. Maarten and Curacao share one Central Bank and one centralized economy.
AVA SXM B.V. will make use of the existing aviation laws, but also the new bilateral agreements signed by St. Maarten to create new routes and connect St. Maarten with other destinations directly in turn will create jobs . AVA's confidence in establishing in St. Maarten comes from the positive attribute the island offers not only through its diversity of languages, its geographical position in the Caribbean, the open sky policy, aviation treaties but also St. Maarten's commitment to reach FAA's category 1 again. Its time for us to create a new industry, the Aviation Industry of St. Maarten. The President of the AVA SXM B.V. Has already be selected however due to confidentiality agreement sign the identity of the person cannot be disclose at this moment however what I can say is that the person is from St. Maarten.
AVA has plans to turned in its documents to the St. Maarten Civil Aviation Authorities, which has to work on the economic Authority ("economic permit") and the operation permits ("AOC").
Source: St. Martin News Network Representatives of New St. Maarten Airline sign Company Article of Incorporation at Notary office ("Ava SXM B.V." is born)