Organizers urge persons to sign up as a volunteer soon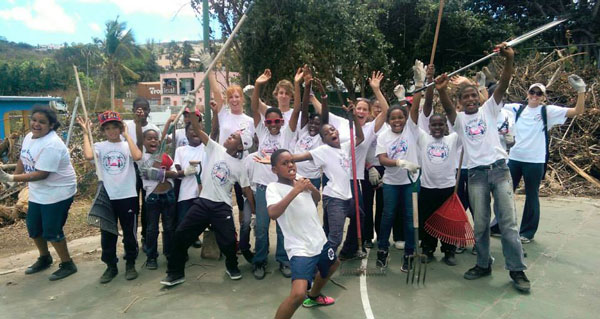 PHILIPSBURG:—- This Friday March 11 and Saturday March 12, volunteers from all over the island will roll up their sleeves for the second annual SXM DOET event. This year over 30 community-minded organizations have registered 43 projects to be completed within the two days.
SXM DOET is a Kingdom-wide community service campaign that aims to lend a helping hand to active organizations and community projects on Sint Maarten that need it most. The projects all differ and range from foster fun days, environmental cleanups, sprucing up of community centers, to feeding the needy and more! Because of the wide variation in projects, there are volunteer opportunities to fit everyone's liking and capabilities. Volunteering for SXM DOET is great for persons from all walks of life, all ages, nationalities, differing skills, capabilities and interests. Not only residents, but also frequent visitors to the island can participate with SXM DOET!
Last year SXM DOET was a great success with 31 projects completed and over 1000 participating volunteers. This year even more projects are registered, and though many have already signed up there are still a few organizations that need volunteers. You can sign up as an individual or as a group, this is also a great opportunity to give back with a group of friends, spend the day with your family to help your community or maybe as a teambuilding initiative for you and your colleagues.
The SXM DOET team would like to encourage everyone to sign up as soon as possible: "imagine the impact you can have on your community if you take part in making these 43 projects happen, just within two days. The event is just a few days away; do not miss this unique opportunity! Besides helping out a great cause you will also meet new people, learn something new, have a lot of fun and walk away feeling great about your self. By volunteering for SXM DOET will be part of bringing a positive change to Sint Maarten."
SXM DOET is sponsored by The Oranje Fonds. The business community including Divico, Cake House, Kooyman, Green Fingers, Firgos, Easy Print and Heavenly Water have also partnered up with SXM DOET 2016. They have been showing their support for the initiative by offering free or discounted services and products.
Persons interested in volunteering for SXM DOET 2016 can sign up at www.sxmdoet.com via an easy online registration form. For more information or questions the SXM DOET team can also be contacted by emailing info.sxmdoet@gmail.com or by calling +1 721 580 1437.
Source: St. Martin News Network SXM DOET 2016 starts in a few days.