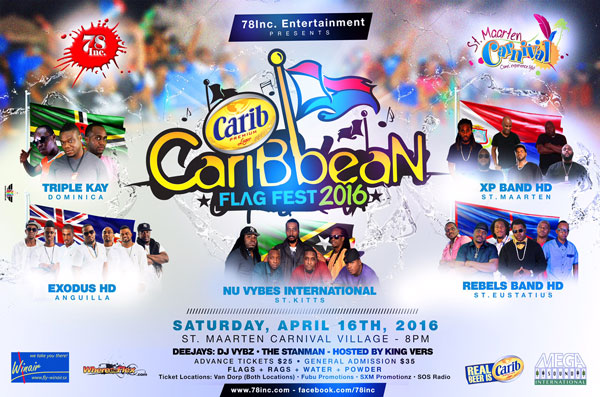 PHILIPSBURG:— 78 Inc Entertainment Foundation was established in 2006 by a group of young professionals born in 1978, with the goal to provide and promote wholesome entertainment in the areas of music, sports, theatre and through any positive means. This Team is once again happy to rock carnival with Carib's Caribbean Flag Fest 2016.
On Wednesday March 16th, 2016 members of the 78 Inc Entertainment Foundation & Carib Beer St. Maarten officially launched Carib's Caribbean Flag Fest 2016, which will be held on Saturday April 16th, 2016 at 8:00pm at the St. Maarten Carnival Village. The return of this highly anticipated show will be one of the first shows carnival revellers are looking forward to for the 2016 Carnival Season. The show will feature some of the hottest bands from St. Maarten and the Caribbean region. Performing live will be: The Rebels Band HD from St. Eustatius; Nu Vybz Band from St Kitts; Exodus HD from Anguilla, XP Band HD from St. Maarten and, back by popular demand, Triple Kay Global from Dominica.
Deejays for this event will be the Official Flag Fest DJ, DJ Vybz and The Stanman from largeradio.com, who are ready and energized to be a part of this concert. Our Host for Carib's Caribbean Flag Fest 2016 is none other than one of our greatest and creative entertainer and singer, King Vers.
"This will be a very 'high energy' soca jam band concert where some of the best bands from our own soil and the surrounding islands will be performing live on stage alongside our local deejays. Carib's Caribbean Flag Fest 2016 aims to bring back the St. Maarten / Caribbean culture and flavour to our only large cultural festival on theisland, namely carnival.
This is a no heels event and the all are encouraged to come out early with their flags, rags, and sneakers and prepare to get wet. 78inc promises that Carib's Caribbean Flag Fest will be "one of the best and biggest" 'pre-jouvert jam sessions in the Carnival Village like never before.
"Come represent your flag and wave your rag…We are Caribbean".
Advance Tickets are $25 and General admission to the show is US $35 per person. Tickets will be available from Thursday March 17th, 2016 at both locations of Van Dorp Edine; SOS Radio Station, SXM Promotionz (+1721 581 0801) and FUBU promotions ( +590 690 75 51 73).
Log on to www.78inc.com and like their page for more information, updates and giveaways.
Source: St. Martin News Network 78 INC. Presents Carib's Caribbean Flag Fest 2016.