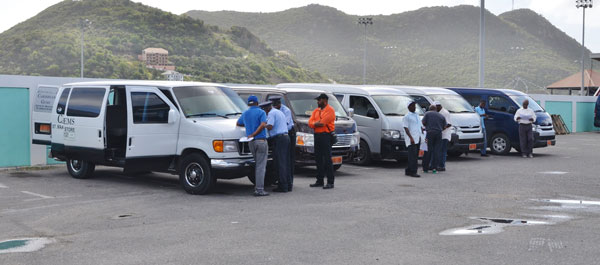 GREAT BAY (DCOMM):—- The Section Transport of the Inspectorate of the Ministry Tourism, Economic Affairs, Traffic and Telecommunications (Ministry TEATT), is in full swing with its annual control of public transportation operators (bus, taxi, rental cars, G and T) having started on January 4, 2016.
Controls are being done Monday, Wednesday and Friday of every week by appointment only. All public transportation operators are strongly encouraged to stop by the office on Tamarindesteeg #16 (Yellow Building) and make an inspection appointment as soon as possible.
These inspections are carried out in accordance with articles 2 and 3 of the National Decree on Public Transportation AB 2013, GT no. 112.
The inspection entails checking each vehicle for a working and valid inspection date on the fire extinguisher, complete and valid inspection date on the first aid kit, seat belts in good and working condition, spare tire and tools to replace the spare tire, tires in good condition, and seats in good condition and vehicle in sanitary condition.
Permit holders must present valid public transportation permit, valid help driver/assistant driver permit (if applicable), valid motor vehicle insurance policy (cover notes/receipts are not acceptable), valid motor inspection, valid driver license for all permit holders operating the licensed vehicle.
A copy of these documents should be deposited at the Inspectorate (Yellow Building) before approval is given to collect the license plate.
For public transportation operators who have a fleet of vehicles the Inspectorate requests that a list of all your fleet be emailed to idez.inquiries@sintmaartengov.org.
The information that should be included in the spreadsheet should be vehicle make, model, year, Vehicle Identification Number (VIN), vehicle license plate number.
If the public has any questions, concerns or comments please contact the Inspectorate of TEATT at 542-4519/11 or send an email to idez.enquiries@sintmaartengov.org.
You may also stop by our office on Tamarindesteeg #16 (Yellow Building) between 8-5 Monday thru Friday.
Source: St. Martin News Network Annual Control of Public Transportation Operators in Full Swing — Call for appointment