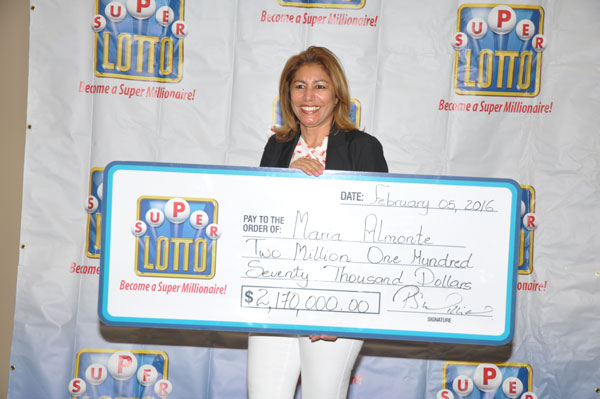 PHILIPSBURG:— The Caribbean Lottery has announced another winner for its Super Lotto jackpot. Maria Almonte, who resides in Cole Bay, St. Maarten, is US$2.17 million richer. The now super millionaire purchased her ticket from Tackling Shell, selecting her own winning numbers for draw #656 on Friday, January 22, 2016.
Maria's winning numbers, 04-11-19-21-28 SB: 04, were not selected by chance, but hold great sentimental value. She explains, "I play the same numbers all the time and each number represents birthdays of persons close to me. My mom is represented by 04, my fiancé by 11, my two children by 19 and 21, and my birthday is 28."
This win is a special one for Maria who has mixed feelings about her windfall. "I am excited, happy, and, at the same time, sad. I am sad because my dad was an avid Lotto player and he never won, and now that I have won this huge jackpot, he is not here to share this special moment with me," she said.
The Caribbean Lottery has a history of producing winners, having paid out prizes to over 193,334 players in the Eastern Antilles totaling US$5,725,174 in 2015.
Maria spoke to her experience playing Caribbean Lottery games, and is over the moon about her windfall and has big plans for the jackpot prize. Her first priority is to purchase a home, which she has wanted to do for a long time, in addition to a vehicle.
Source: St. Martin News Network Caribbean Lottery produces another super Lotto Millionaire in St. Maarten.