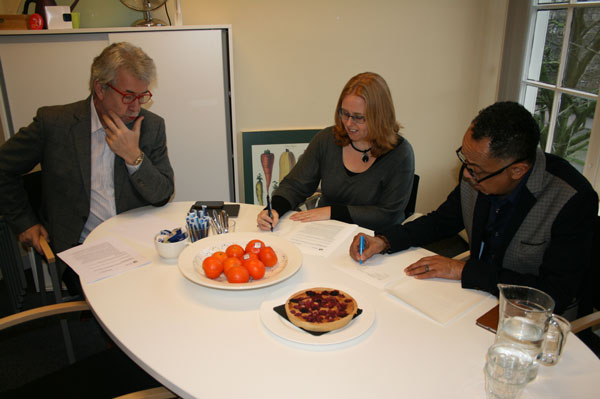 AMSTERDAM:— The ability to create a plan together with relatives and friends in difficult times. Moreover the ability to have a say and maintain direction, amidst the involvement of government and aid organizations. Soon residents of the Dutch Caribbean in such situations will also be able to request an Eigen Kracht seminar. On January 27th Glenn Helberg of Stichting Ocan and Hedda van Lieshout of Eigen Kracht Centrale signed a cooperation agreement to make seminars available on Bonaire, Saba and Sint Eustatius.
Last year September, citizens, professionals and administrators collectively recognized during an Eigen Kracht seminar on Bonaire, the benefit of such seminars for the shaping of aid, the cooperation between involved parties and the importance of letting the affected persons maintain direction. Both Ocan and the Eigen Kracht Centrale believe in the power within of affected persons and those that are involved.
Having started in 1985, Ocan commits itself to the strengthening and improvement of the social position of Dutch Caribbean community in the Netherlands and recently that in the islands as well. Ocan sought the cooperation of the Eigen Kracht Centrale which has facilitated some 10.000 Eigen Kracht seminars in the Netherlands since the year 2000. Independence is a key condition for the introduction and organization on the islands. For this reason, solely citizens who are not tied either government or aid organizations will be eligible for the training to become a certified Eigen Kracht Coordinator. Coordinators facilitate fellow citizens and their circle of involved persons with the creation of a plan in which families maintain direction.
Collaboration with local parties is of essence; such as the pleasant cooperation with Dianne Lucassen of Stichting Awor on Bonaire. Trials during the introduction phase of the Eigen Kracht seminars will lend for the creation of a unique character on the respective islands.
Source: St. Martin News Network Collaboration between Stichting Ocan and Eigen Kracht Centrale. Eigen Kracht seminars now available to the Dutch Caribbean.