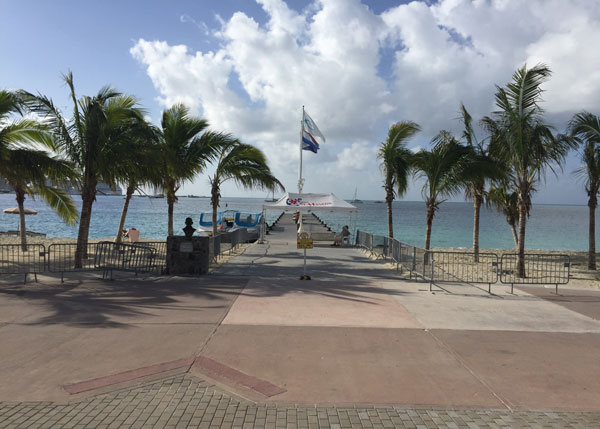 POINTE BLANCHE:—- The purpose of Valentine's Day is to express ones love for our significant others and sweethearts by giving Valentine's cards, sending flowers, and doing romantic things.
This Valentine's Day, Sunday, February 14, make it a date with Walter Loves Valentine – the Lover in You, at the Walter Plantz Square (WPS) at Down Street.
At WPS on Sunday, there will be lots to eat for dinner along with a dance party kicking off from 6.00pm to 1.00am. The entrance is free and everybody is invited to come out with their valentine's under the stars.
It is an occasion for everybody to come out for great dining and valentine specials with a choice of three restaurants: Irie Gardens for veggie lovers; Lay Back Bar & Grill for BBQ lovers; and Oranje Café for European lover's cuisine.
All of the aforementioned will be to the rhythms and heartbeats of DJ Mix Master Pauly, DJ Colayshan, DJ Fabulous, and DJ EM.
Parking is available near the square. WPS is a place to visit year-round. It is a great location for visitors, family and friends to hang out through the week or weekends.
The Walter Plantz Square at Down Street has generated a new spirit of life into the area for locals and visitors alike.
WPS comprises of seven small buildings constructed according to the traditional St. Maarten architectural ginger-bread design, to reflect the national heritage of the destination. The essence of the project is to bring in the heritage value of the destination by showcasing the ginger bread homes of the past.
The approximately US$2 million project entailed the construction of a square with cabanas to be used for a bar/restaurant, the selling of arts and crafts and other tourist related goods; water fountain; 12 Sylvester palm trees 12 feet high; toilet/bathroom facilities; lockers; the square will be disabled accessible; parking for five taxi's; small splash pool for kids; water fountain illuminating 60 different lights at night; 24-hour security.
The square is strategically located next to the Walter Plantz Tender Jetty which connects to the boardwalk/beach promenade, Down Street and Front Street which allows for a broader distribution flow of passengers.
Source: St. Martin News Network Come Celebrate Valentine's Day at the Walter Plantz Square. Walter Loves Valentine.