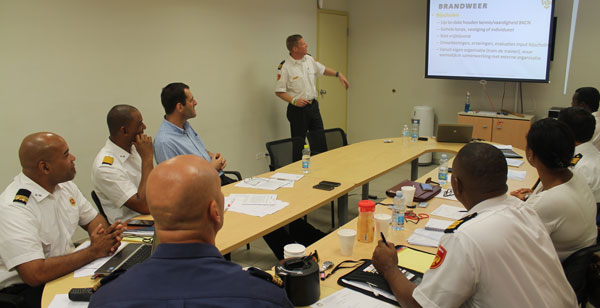 GREAT BAY (DCOMM):— Management of the Sint Maarten and the Caribbean Netherlands (Bonaire, Sint Eustatius and Saba) Fire Departments, met recently at the fire station in Cay Hill.
The fire departments of the four islands have been working together for a number of years already, albeit on a more informal level.
It was deemed necessary to foster this cooperation in a more structured manner. Therefore, a meeting was organized to discuss common issues between the two departments.
Both departments presented their current state of affairs to the meeting, as well as plans for the future. The intention was to identify commonalities and cooperation possibilities.
The conclusion of the meeting was that there are multiple possibilities to join forces and work on several projects together.
It was decided the cooperation would focus on education, training, examination, capacity building, material, policy planning and disaster management.
During the meeting it was also decided it would be wise to formalize this cooperation in an agreement. Parties will work on a draft and present this in due course to the relevant authorities for approval and signing.
All participants are looking forward to a fruitful and successful cooperation in the years to come. These meetings will be held on a regular basis.
The hope was also expressed Aruba and Curaçao would be able to join in the near future.
Source: St. Martin News Network Cooperation Sint Maarten and Caribbean Netherlands Fire Departments.