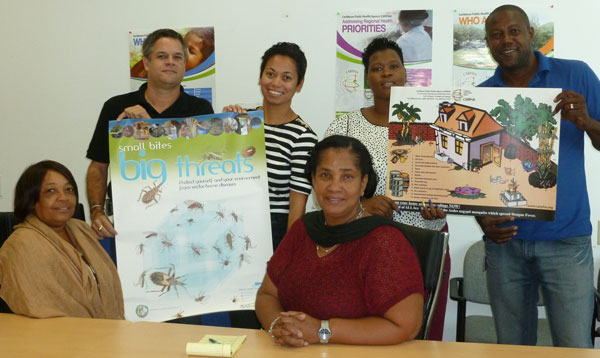 GREAT BAY(DCOMM):— The Collective Preventive Services (CPS), a government department under the Ministry of Public Health, Social Development and Labour, met on Tuesday morning regarding the Zika Virus Disease.
CPS has increased its level of alertness based on current development in the Americas and will scale up activities in the coming days and weeks. These activities include meeting with stakeholders to plan additional measures and provide information about current developments in the Americas; meetings with French St. Martin and Anguilla public health officials; increased public awareness activities (via social media, government website, radio and TV talk shows, press releases, government information page, distribution of information to schools etc.); and increased vector controls.
At the moment for Sint Maarten, no confirmed cases have been reported. CPS already has a working arrangement with St. Maarten Laboratory Services (SLS) where it concerns the collection of samples for investigation that would then be sent to the Caribbean Public Health Agency (CARPHA) for further detail analysis.
Zika virus is a member of the Flaviviridae family and is transmitted to humans by mosquitoes. It is related to other pathogenic vector borne flaviviruses including dengue, chickungunya, West-Nile and Japanese encephalitis viruses but produces a comparatively mild disease in humans.
The Pan American Health Organization (PAHO) in its latest epidemiological alert has listed 18 countries and territories in the Americas that have confirmed autochthonous circulation of the Zika virus in 2015 and 2016. These countries are: Brazil, Barbados, Colombia, Ecuador, El Salvador, French Guiana, Guatemala, Guyana, Haiti, Honduras, Martinique, Mexico, Panama, Paraguay, Puerto Rico, Saint Martin, Suriname, and Venezuela. Between November 2015 and January 2016, local transmission of the virus was detected in 14 new countries and territories.
CPS is therefore advising travellers – especially pregnant women – to take necessary preventive measures when abroad and to report upon their return to their family physician if they experience flu-like symptoms.
The main clinical symptoms in patients are mild fever, conjunctivitis, transient arthritis/arthralgia (mainly in the smaller joints of the hands and feet) and maculo-papular rash (that often starts on the face and then spreads throughout the body), and general malaise. In general the disease symptoms are mild and short-lasting (2-7 days). There is no vaccine or preventive drug available
To reduce the risk of contracting Zika virus infection – as for the other mosquito-borne infections – travelers and those at home should minimize the exposure to mosquito bites by taking the following preventive measures:
1. Use of anti-mosquito devices (insecticide-treated bed nets, coils, smudge pots, spray, repellents) and wearing long sleeves and pants with long legs, especially during the hours of highest mosquito activity (morning and late afternoon); light colored clothing. Mosquito repellent based on a 30% DEET concentration is recommended;
2. Before using repellents, pregnant women and children under the age of 12 years should consult a physician or pharmacist;
Dengue fever, zika and chikungunya are transmitted by the female vector Aedes Aegypti mosquito. The Aedes Aegypti mosquito is distinguished by its markings. The body of the mosquito has alternate black and white horizontal stripes. The Aedes Aegypti mosquito lays her eggs in clear (clean) stagnant water. Within eight days the mosquito can complete its life cycle from egg, to larvae to pupae and to adult mosquito.
Persons are also requested to keep their homes, yards, neighborhoods and work environment free from potential mosquito breeding sites. If residents come across areas with a large mosquito population, they should notify CPS.
CPS first alerted the community about the Zika virus last October and has been advising on a monthly basis on mosquito elimination measures and providing updates related to Zika.
An increase in the mosquito population puts residents and visitors at risk. For information about dengue fever, zika and chikungunya prevention measures, you can call CPS 542-2078 or 542-3003.
Source: St. Martin News Network CPS Meets about Zika Virus Disease. Calls on Public to Eliminate Mosquito Breeding Sites. Travelers advised to take preventive measures.