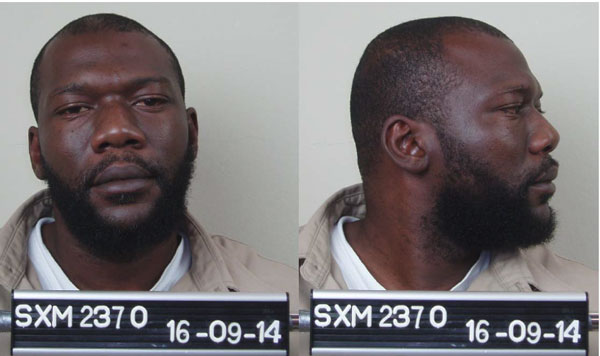 PHILIPSBURG:— The prisoner by the name Kathron Fortune a.k.a. "Cuchi" who escaped from prison guards on Monday February 15th 2016 has not yet been recaptured and is still at large. An intense search to recapture this prisoner is still ongoing. The Public Prosecutors Office and Police Department on the day of the escape sent out a joint press release requesting the assistance of the entire community to help locate this prisoner.
The picture of the prisoner that was sent to all media outlets is dated September 16th 2014. His latest description is as follows:
Kathron Fortune was born on the island of Grenada, 38 years of age, he has a dark complexion and a full beard, weighs between 200 and 215 pounds, is approximately 5 feet and nine inches tall, he has a heavy set and strong posture, very low cut hair and possibly a pony tail.
The Public Prosecutors' Office and Police Department are reminding the general public, that assisting in the escape of a prisoner, keeping that prisoner in hiding, assisting that prisoner in any other form, to prevent his or her capture by authorities, is considered a criminal act and is punishable by law.
Anyone who have information that can lead to the recapture of this armed a very dangerous prisoner should immediately get in contact with the Police Department by calling 54-22222 ext. 214 or215, the tip line # 9300 or 911.
"Do not attempt to capture this prisoner on your own call the police."
Source: St. Martin News Network Dangerous escaped prisoner still at large.